LaDainian Tomlinson and Brian Westbrook were quick nos for me when I lined them up with the Texans.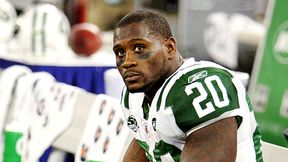 Jerome Davis/Icon SMI
Recently-released running back Thomas Jones could be a good fit for the Texans.Tomlinson's simply worn down and Westbrook's injury-prone and more of a dual threat than the goal-line short yardage banger the Texans covet.
But Thomas Jones I'm not so sure about.
Yes, everyone is wary of a back over 30 and Jones will be 31 in August. But the guy about to be released by the Jets is a sculpted. He's coming off a season with the most carries of his career, averaging 4.2 yards a carry, the third best number of his 10-year career. In 148 NFL games over 10 years, he's averaged 17.4 touches on offense, a significantly smaller number than LT's 24.2.
"I like him more than Westbrook and a lot more than LT, for anyone," Matt Williamson of Scouts Inc. told me. "Yes, he still has juice left and would be best in a tandem with a dynamic type (like a healthy Slaton). He isn't flashy, but he has a very professional approach to playing the position. He runs hard and doesn't make many bad decisions. It is a different scheme that what he ran in New York, but I do think Jones could be successful against unstacked boxes in Houston. Would say he is an above average goal line runner."
Ahman Green was a failed attempt at getting a veteran running back for Houston, but they were looking for a primary back then. Chris Brown was a failed attempt as getting a veteran complimentary back, but he was cheap and miscast.
Jones could be a different deal if the price is right.
I believe the Texans would like to draft a back.
But after letting Dunta Robinson walk, their need list is pretty lengthy: corner back, running back, interior offensive lineman, interior defensive lineman, free safety. Go into the draft with five needs, the odds of filling them all sufficiently with first-year players seems slim.
So I'd say they need to fill one or two of them in free agency -- by landing an unrestricted or by luring away a restricted with an offer sheet or through a trade.
Given that, they have to seriously examine Jones, especially if no one else pounces on him when free agency opens Friday.
"He's a beast," says Tim Graham, my sworn enemy who works this job on the AFC East. "Known for being a freak in terms of his physique. He will be a good complementary back anywhere he doesn't have to shoulder the whole load. Not just goal line, either. He broke some long runs this past season."