Five nuggets of knowledge about Week 16: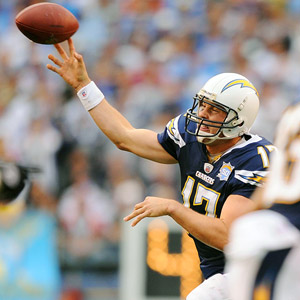 Christopher Hanewinckel/US Presswire
Philip Rivers may find increased success with short passes underneath against the Titans.Chargers quarterback Philip Rivers throws deep well, but shorter stuff might be more effective Friday night at Tennessee. The Titans and the Lions allow the highest completion percentage on balls thrown 10 yards or less -- 74.5. Much of that is by design. Jeff Fisher and his team are willing to give up small gains. But break a tackle against a defense with two young linebackers (Gerald McRath and Colin Allred) subbing for Keith Bulluck and David Thornton, and a short gain could be a long one. One aside: The Titans lost their first two home games this season by a cumulative score of 65-40. They've won their past five at LP Field by a combined score of 165-78.
Dallas Clark's next 100-yard receiving game will be the eighth of his career, which will match Hall of Fame Colt John Mackey's total. Clark's got the most tight end TDs in the NFL since 2007 with 27, leading Antonio Gates by four. Peyton Manning and Clark have connected on 41 touchdowns. They trail only two duos in history: Sonny Jurgensen and Jerry Smith of the Redskins (43) and Drew Bledsoe and Ben Coates of the Patriots (45).
Matt Schaub can thank his sure-handed wide receivers for the career year he's having. Among wide receivers who have been targeted on at least 45 passes this season, nobody has caught a higher percentage than David Anderson (80.4), while teammate Kevin Walter is third on the list at 77.4. The Texans are third in the league with an on-target/drop percentage of 5.3, according to ESPN Stats & Information. It's also a testament to Schaub's accuracy.
The Jaguars' interior line play hasn't been great this season in protecting David Garrard from the rush, but it must be doing something right when Maurice Jones-Drew gets the ball. He should get a good deal of carries up the middle at Gillette Stadium Sunday. Stats & Info says Jones leads the NFL in rushes and yards up the middle this season. New England's interior run defense has been suspect this season. MJD has 202 of his 278 carries up the middle this season for 834 yards and seven touchdowns. The Patriots allow 4.3 yards per carry up the middle, and that number's been 5.9 in their past two games.
The Jets blitz a bunch. Manning doesn't flinch when teams send extra rushers. According to Stats & Info, the Jets send at least five players after the quarterback on 55.7 pct of passing plays, by far the highest percentage of any team in the league. But Manning is completing 70 percent of his passes against the blitz this season and has a passer rating of 106.8 against five or more rushers. Jets' opponents have completed 49.6 percent of their passes against blitzes, while Manning's hit on 69.9.