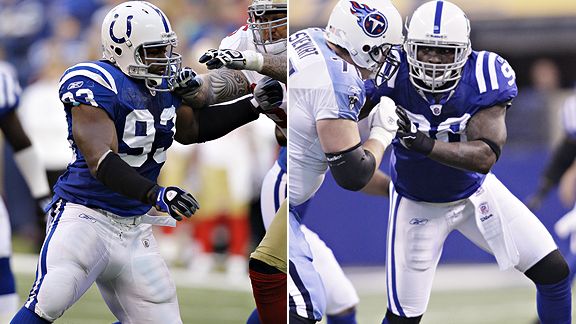 AP Photo
Colts defensive ends Dwight Freeney and Robert Mathis hope to make an impact in the Super Bowl -- even if they don't record a sack.MIAMI -- In the visitor's locker room at M&T Bank Stadium on Nov. 22, Dwight Freeney was perfecting his head-shaking and shrugging.
He'd recorded at least one sack in eight straight games, but in a 17-15 win over the Ravens he was shut out for the second week in a row. This time, not only no sacks but no tackles. Robert Mathis didn't have a sack either, and coaches' tape boosted his tackle total from zero to two.
Look at the stats and read no impact into them if you like, Freeney was saying, but the effort the Ravens had put forth to pitch such a shutout had a big influence on the game.
And so it's been in two playoff games as well. The two Pro Bowl pass-rushers have no sacks and the Colts have just one in two games. But Indianapolis gave up only 20 points total in wins over Baltimore and the Jets.
Now Freeney's status is in question for the Super Bowl because of an ankle injury that's reportedly quite serious. If he plays, he's unlikely to be himself and could work as a situational pass-rusher. That changes the dynamic for sure.
But in the playoffs, the Colts have echoed Freeney from Baltimore. He and Mathis don't have to be recording sacks to be playing effectively.
"They are doing some other things besides getting the glorious sacks," Jim Caldwell said. "They are still defending the run. They are still taking care of their assignments, in terms of their gap control. Sometimes, teams come out with a little different sort of a focus. Don't think they don't plan to get that ball out of their hands quickly. Three-step drop, we see quite a bit of that, and the reason being because of those two guys on the end.
"Now that helps us overall, even though it might not show up on the stat sheet. But when a guy is going back and they're throwing quick, short passes, that means there are very few things going deep over our head or deep in the seams because they're a little nervous. The other thing it does is that they end up keeping extra people in to take care of those guys. When they do that, we have fewer receivers to defend. So, although you may not see quite the games you've expected, I think they still have a tremendous impact on the outcome of the ballgame."
With Freeney out or limited, the Saints will have to worry about him less and won't likely give left tackle Jermon Bushrod as much help against Raheem Brock. Some see that as a big game-changer, others think it won't be a deadly development.
Mark Simon of ESPN Stats & Information tells me in the five games this season when Mathis and Freeney didn't have a sack, discounting the Buffalo finale when the Colts really didn't play to win from the start, the Colts gave up an average of 236 passing yards and 1.4 passing touchdowns a game. With a sack from them, those numbers were 213 and 0.9.
I asked Ken Moll of Scouts Inc. and a coach who has game-planned against the Colts this year for their thoughts on what it means if the Saints can keep Freeney and Mathis quiet.
Moll: "The Colts have only generated one sack (Gary Brackett) in the postseason after racking up 34 during 2009. Freeney and Mathis are arguably two of the best pass-rushing tandems in the league, racking up 23 sacks between them (during the season) but have been held at bay thus far. There are a couple of reasons why this has been the case. The first being both teams are heavy run-first offenses with short controlled passing games and the other being extra blockers (tight end or backs) chipping on one or both of these edge rushers. Yes, Freeney and Mathis still had a huge impact in those postseason contests as offensive coordinators have to limit what they do (especially in the passing game) and the attention given to them frees up other defenders to make plays."
The coach: "The way we look at it, they can influence a game even if they are not getting sacks. You're accounting for them usually with two guys on each of them. So if you're accounting four for those two, it should free some of those other guys up to make plays. And either you're getting one or two guys less into the route, three-man routes instead of five man routes, or they are freeing up one of those other guys to get pressure."
With Freeney limited or out, Raheem Brock will be very important. If they leave him alone with Bushrod, can he win in a way that makes them play him more like they would with Freeney? If not, how much damage can that extra guy on a route do in the season's biggest game?