Posted by ESPN.com's Paul Kuharsky
New mock drafts from the National Football Post and NFL.com. We hit the AFC South highlights for you here, but you can find West Bunting's three-round draft here, and Steve Wyche's first round here. Also included, Don Banks' mock from late last week.
Bunting, interestingly, has defensive tackles as the first three picks in the AFC South.
You can still drag and drop guys into our draft list to do your own mock.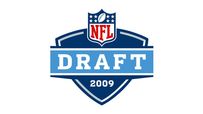 No. 8: Jacksonville Jaguars
Bunting: Defensive tackle B.J. Raji, Boston College
Wyche: Receiver Jeremy Maclin, Missouri
Banks: Maclin
No. 15: Houston Texans
Bunting: Defensive tackle Peria Jerry, Mississippi
Wyche: Defensive end/linebacker Aaron Maybin, Penn State
Banks: Cornerback Malcolm Jenkins, Ohio State
No. 27: Indianapolis Colts
Bunting: Defensive tackle Evander Hood, Missouri
Wyche: Hood
Banks: Linebacker James Laurinaitis, Ohio State
No. 30: Tennessee Titans
Bunting: Cornerback Vontae Davis, Illinois
Wyche: Receiver Hakeem Nicks, North Carolina
Banks: Davis