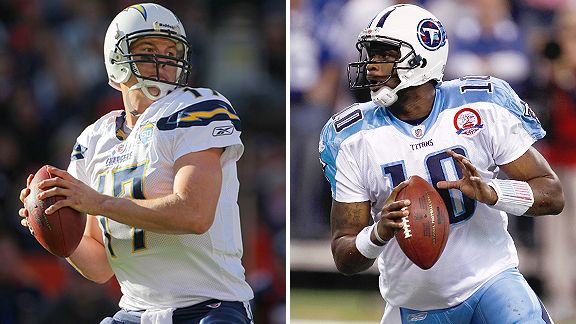 Getty Images
There's no love lost between Philip Rivers' San Diego Chargers and Vince Young's Tennessee Titans.NASHVILLE, Tenn. -- Most teams have a historical trouble spot, and for the Titans' entire life in Tennessee it's been receiver.
They've struck out with high draft picks. They've failed to develop mid- and low- round guys they've selected in droves. They've missed on free agents. They've been unlucky with injuries.
In 2005 they liked Vincent Jackson, but watched him go late in the second round to San Diego, where he's developed into a consistent threat. Eight picks later they took Courtney Roby in their third round. He's now returning kicks in New Orleans while the Titans will have to defend Jackson Christmas night in a crucial game at LP Field.
ESPN Stats & Information says Jackson has been the targeted on more throws that have been in the air for at least 15 yards than any other receiver in the NFL. On those 52 chances, he had 27 catches for 715 yards, a 26.5 average and four scores.
The Titans try to spread it out and veteran Justin Gage has missed time with a back injury. Still, they don't have a pass-catcher close to Jackson in terms of long-pass situational production, let alone overall output (63 catches, 1,097 yards, 9 touchdowns). Rookie receiver Kenny Britt leads the Titans wideouts in both receptions (40) and receiving yards (674).
The hit rate's been low, but Tennessee has produced some receivers, Derrick Mason most notable among them. And Mike Heimerdinger thinks a trio of Mason, Kevin Dyson and Drew Bennett at their peak together might have been his best group in his two terms as the Titans coordinator.
His trio now is productive with upside and seems to have a bright future with quarterback Vince Young, who replaced Kerry Collins as starter eight games ago.
Britt appears to be worth every bit of the first-round pick they spent on him; the inconsistent Gage has made more plays since the quarterback switch but has only caught 45 percent of the passes thrown his way according to ESPN Stats & Information; and though drops are a significant issue as well for free-agent addition Nate Washington, he has produced a team-best six touchdown catches. (Gage and Britt are tied for second on the team with three touchdown receptions each.)
In the eight games with Young as the starter, the Titans have the second-most prolific offense in the NFL. Their 398 yards-per-game average trails only the Saints (413.9). Tennessee's 29.5 points-per-game average is tied with Philadelphia for second behind New Orleans (30.6).
When those receivers have made plays for Young, it's opened things up for the team's featured player, Chris Johnson. That's the goal No. 1 for the Titans, who are 7-7 and need to win out and get help to keep their AFC wild-card playoff hopes alive.
San Diego's starting corners Antonio Cromartie and Quentin Jammer have three picks apiece for the league's 13th-rated pass defense. They're both 6-feet tall, but the Titans' three primary wideouts are bigger. Britt and Gage are certainly capable of going up over them to get passes.
A nationally televised game is a good place for Britt, Gage and Washington to perform if they want a broad audience to believe the Titans are figuring things out at the position.
Four other things I'll be watching or wondering about Christmas night as Chargers-Titans unfolds:
Bad blood: Shawne Merriman is still, um, annoyed about a play in a 2007 game where he felt Kevin Mawae and David Stewart teamed up to try to hurt him. Two physical fronts here hardly have a love affair from their two games that season, Chargers wins in the regular season and the first round of the playoffs.
Mawae doesn't mind when opponents are worrying about him, and he will use it to try to use psychology as an aid on at least a couple plays.
Controlling Gates: Chargers tight end Antonio Gates causes a matchup problem for everyone. He can run over DBs and past linebackers. The Titans best coverage linebacker, Keith Bulluck, is out for the season. The Titans would be nuts to ask Gerald McRath or Colin Allred to handle him much. Nickel back Vincent Fuller's physical, tough and responsible, but he gives up 70 pounds and three inches to Gates. I expect he will spend a lot of time on Gates, doing what he can to hold him up. Help better arrive quickly for gang tackling.
Making it hard for Rivers: Philip Rivers is gaining traction as the quarterback who should be talked about right after Peyton Manning and Drew Brees. How might the Titans have their best chance to limit the league's third-rated passer who carries a league-high 8.76 average gain into the game?
Get him out of situations where he's excelled. Rivers is gettable -- the Chargers have given up 24 sacks, which puts them in the bottom half of the league. The Titans need to rush well with their front four, because with the two kid backers on the field they can't afford to bring any help.
Other pieces of the recipe for potential success against a good quarterback are hardly unpredictable: Get Rivers in third and long, because he's got a 91.9 rating on third down. And don't allow him to work with a lead in the fourth quarter. His passer rating in the fourth period is 98.8.
Punting contest: Brett Kern's been a wonderful find for Tennessee, and his punts have helped out a great deal with field position. His 37.8 yard net isn't among the league's best numbers, but he's been timely. His counterpart, Mike Scifres, is capable of controlling a game, as he did in the Chargers' win over the Colts in the playoffs last season. The Titans' return game has been an abomination this year, so don't expect it to handle Scifres' boomers very well. Remember, every fair catch amounts to a play that wasn't a turnover. Chargers punt returner Darren Sproles, meanwhile, can be a major threat.