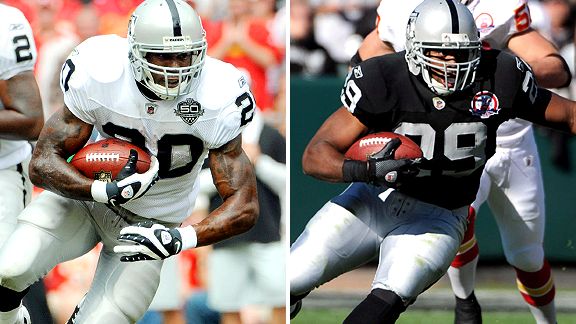 US Presswire
The Raiders have to figure out a way to effectively use both of their running backs, Darren McFadden and Michael Bush.The quarterback battle will not be the only intrigue in the backfield during Oakland's training camp this summer.
Raiders coach Tom Cable said this week during the NFL owners meetings that running backs Darren McFadden and Michael Bush will compete for the starting job.
Unlike Oakland's quarterback battle between bust-in-waiting JaMarcus Russell and feisty journeyman Bruce Gradkowski, Oakland's running back competition could really help the team. Let's face it, Oakland's quarterback situation is murky at best. Even if the admirable Gradkowski wins the job, he is not likely a long-term answer.
The running game is potentially Oakland's best chance for offensive success.
Cable has indicated he'd like either McFadden or Bush to step up and become a premier tailback. It seems McFadden, who has been a disappointment since being picked fourth overall in the 2008 draft, could have the first chance to separate himself.
But Cable wants to see one of them become a standout.
"We'll move forward with those two guys," Cable said. "I think it will help both of them that they will get more work. But [they are] definitely different one from the other so I think that helps us with what we're trying to do. Looking at everything, let's see if we can keep [McFadden] healthy and see what he can do. ...
"The question is can he be an every-down back, and I think he can be."
While Bush and McFadden both have to make improvements in their game, the Oakland coaching staff also has to do a better job handling them.
Perhaps it will help the entire situation that Justin Fargas was removed from the mix. He was cut earlier this month. While Oakland boasted about its three-man running back committee for the past two years, it never properly used the committee. Now that Fargas is not a factor, Oakland has to construct a way to best use Bush and McFadden.
I truly believe there should be no clear-cut primary back in Oakland. I think Bush and McFadden can be effective in their own roles.
The best way to win in the NFL these days is on the ground and with two backs. Bush is more of a power back who can wear down defenses and McFadden is a speedster who can break a long run at any time.
If Oakland gets both Bush and McFadden rolling together, it can confuse and frustrate defenses. But both players have to show they can handle the load.
Bush started seven games last year. He ran for 589 yards and averaged 4.8 yards per carry on 123 attempts. Bush is much too talented to get so few carries.
Oakland used him very inconsistently. He had 10 or more attempts in only six games last year. Oakland did give Bush a total of 38 carries in the final three games.
But Bush has to take better advantage of his carries. In Week 15, he had 133 yards on 18 carries in a win at Denver. In the season finale, Bush had only 18 yards on 10 carries against Baltimore.
"Michael, I think, if he can get comfortable if he's going to be an every-down guy," Cable said.
But he doesn't have to be. McFadden can help as well. But he has to show he can stay healthy. His early career has been hampered by injuries and ineffectiveness. There has to be concern that he will not be able to hold up. I think Cable would be better served by not trying to make McFadden a 20- to 25-carry back. He is best suited to be used like New Orleans uses Reggie Bush.
If McFadden can get eight to 10 carries a game and catches a few passes out of the slot, he can be a terror.
The only way this is going to work if Bush and McFadden work as a tandem. There doesn't have to be a clear-cut starter in Oakland.