The Chargers' run defense was a big problem in 2009. From my perspective, the defensive line was the culprit for this inability to consistently close down running lanes. What has changed so dramatically from a year ago to suggest that the problem has been corrected?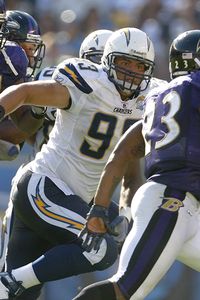 AP Photo/Lenny Ignelzi
Luis Castillo didn't play like San Diego's top lineman last season.At defensive end, San Diego will start Luis Castillo and Jacques Cesaire. Castillo is the Chargers' best defensive lineman, but you wouldn't know it from watching him last year. Last season may have been his worst as a pro, which obviously is a concern. Plus, he no longer benefits from a strong supporting cast around him up front. But at his age, he should rebound.
My impression of Cesaire is that he was perfect as a third defensive end behind Castillo and Igor Olshansky, who now plays for Dallas. But he isn't powerful enough and doesn't have the size to do it for a high number of snaps for an extended stretch of games.
I like Alfonso Boone, but he's best suited to be used as a third defensive end, as Cesaire was. Boone is a good athlete and has above average pass-rush skills for a 3-4 end, but he doesn't have the makeup to handle double teams and the grind of the trenches for the long haul.
Ian Scott is penciled in as the starter on the nose, but he is ordinary on a good day. He can hold down the fort, but surely is not going to make anyone forget about Jamal Williams, who now resides with AFC West rival Denver.
San Diego did look to get a steal in the fifth round in nose tackle prospect Cam Thomas. He has quite a bit of ability to handle this role, but rarely do rookie nose tackles enter this league and make a big impact. Plus, there is a reason he lasted as long as he did in the draft, which is mostly because of inconsistent play.
The Chargers do have some big-bodied projects in Ogemdi Nwagbuo and Vaughn Martin. Neither player has been spectacular when they have seen the field, but there is some ability there. San Diego needs one of these two or Thomas to really exceed expectations in 2010.