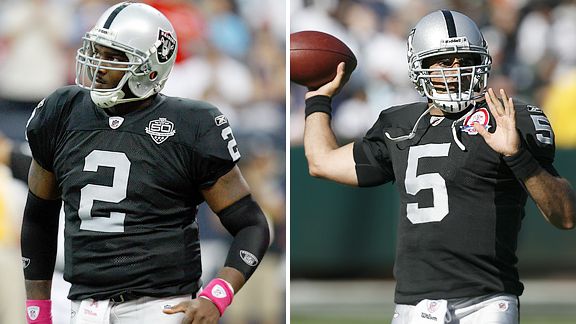 Ronald Martinez/Getty Images/AP Photo/Tony Avelar
Oakland quarterback JaMarcus Russell has been benched in favor of teammate Bruce Gradkowski.
The JaMarcus Russell experiment in Oakland is probably over.
Raiders coach Tom Cable announced Wednesday Russell would be replaced by Bruce Gradkowski and that decision was meant for the rest of the season. If Russell is being benched now, it probably means the Raiders have seen enough.
If Oakland doesn't think Russell is equipped to finish the season, they won't want to start fresh with him as the starter next season.
I've never been a Russell supporter, but I think this move is premature.
Russell should have been given the next seven games before Oakland made such a dramatic move on the player it took with the No. 1 overall pick in 2007. Let him finish the season as the starter. What's the rush?
The Raiders are 2-7, and with games coming against Cincinnati, Dallas and Pittsburgh on the road, this team is staring at a 2-10 record. It's not as if Gradkowksi can spark a playoff run. So why not just give Russell the rest of the season to see if he can turn around his career? Why close the door on him now?
There is no doubt Russell has been terrible. He became the full-time starter at the beginning of the 2008 season and has not improved. He has actually regressed.
But the ironic thing is, Russell threw two of his better passes as a Raider against Kansas City on Sunday. They came on consecutive plays, but neither helped the Raiders. One was dropped and the other was nullified by a penalty.
Russell was also the victim of several drops in what looks like was his final start in Oakland. When Oakland benched Russell in a close game, the message was sent: The Raiders don't think Russell can help them win.
The Raiders have a lot invested in Russell. They have virtually nothing invested in Gradkowski. It is not as if Gradkowski, considered a low-level backup who has started one game since 2006, has a future as a starter.
He is a stop-gap answer.
The move crushes any confidence Russell has left. The future is still bleak with Gradkowski, who can move around well, but doesn't have much of an arm. And it brings Oakland back to square one regarding the future.
If the team still had Jeff Garcia, I could see the move being made. At least Garcia, who asked to be released in September because the team told him it was sticking with Russell, would give Oakland a chance to win a few games down the stretch.
Don't be surprised if Oakland tries to make up for the Russell mistake by drafting another quarterback next spring. Among the quarterbacks who could be taken in the top 10 are Washington's Jake Locker, Notre Dame's Jimmy Clausen and Oklahoma's Sam Bradford. Expect Oakland to start analysis on collegiate quarterbacks again for the second time in three years.
The Russell choice was a mistake and the era looks to be over.
But I just think it may be over seven games too early.