The Denver Broncos' selection of running back Maurice Clarett with the final pick of the first day of the 2005 draft will go down as one of the most shocking and worst picks in NFL history.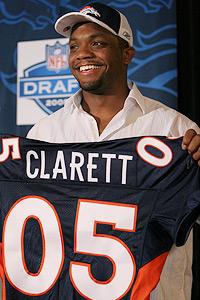 AP Photo/Ed Andrieski
Drafted by the Broncos in 2005, Maurice Clarett never played a snap for the team.Sure, there were much bigger busts because they came with first-round price tags. But Clarett, who played one season of college football in 2002, qualifies because he was cut during his first training camp and never even played a snap in an NFL preseason game. Clarett was released after the team felt like he milked a minor injury and after he showed no interest in taking advice from Denver's veteran players.
Clarett is currently serving a prison sentence in Ohio that began months after his release in Denver.
Still, as he looks back, former Denver general manager Ted Sundquist vividly recalls the Broncos' reasons for taking Clarett. During the draft-preparation process, the Broncos kept Clarett in mind because during his one collegiate season, he displayed the dominant, one-cut, downhill running that Mike Shanahan's Broncos craved.
Once the third round started to wind down, Clarett became the main topic in the Broncos' war room.
"We felt good about him," Sundquist said. "We knew all of the warning signs, but as a football player, he fit what we did better than everyone else."
As the final pick of the first day approached, the conversation in Denver centered on how Clarett fit the Broncos' system better than any other player on the board. The Broncos didn't have a fourth-round pick and their fifth-round pick was at the end of the round. If Denver was going to make a run at Clarett, it figured it would come with the final pick of the first day, which was the team's third third-round pick of the day.
"We felt that somebody could take this guy in the fourth round. We didn't care that it was a third-round pick," Sundquist said. "It was a compensatory pick and we weren't picking for another 60 picks. We had two other guys on our board that we liked. But one was an attitude player and the other didn't pass our physical … after much discussion in that war room, Clarett was the guy."
Sundquist said Denver personnel realized that the Broncos were about to shake up the NFL world with their surprising selection at 11 p.m. ET on a Saturday night.
"It sent shock waves," Sundquist said. "I remember [Shanahan] saying something like, 'let's give them something to talk about.' "
They certainly did.