Posted by ESPN.com's Bill Williamson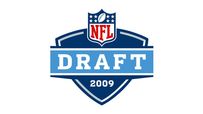 This is the third in what will be a periodic series attempting to project AFC West teams' first-round picks. There will be developments leading up to the April 25-26 draft that will change draft boards. The now-complete first wave of free agency is the latest source of information for teams to digest.
Here is a look at who I believe each AFC West team may select at this point. Again, we'll check in more as the draft approaches:
3. Kansas City, Aaron Curry, LB, Wake Forest: He best fits Kansas City's top need. He'd be an impact player on defense. If Detroit doesn't take him, he should be the pick.
First mock draft choice: Andre Smith, OT, Alabama

Second mock draft choice: Curry.
7. Oakland, Michael Crabtree, WR, Texas Tech: I know other mock drafts have the Raiders taking Missouri receiver Jeremy Maclin, but I have a difficult time thinking Oakland will bypass Crabtree if he is available, which seems very likely at this point. With Oakland signing tackle Khalif Barnes, a tackle may come later in the draft, but not in the first round.
First mock draft choice: Eugene Monroe, OT, Virginia

Second mock draft choice: Crabtree
12. Denver, Tyson Jackson, DE, LSU: The Broncos need a lot of elp on the defensive line and more pass-rushing presence. Jackson could be the perfect fit. But of course, if the Jay Cutler saga turns even uglier, a quarterback could be in play.
First mock draft choice: Rey Maualuga, LB, USC

Second mock draft choice: Maualuga
Why the change: Maualuga has an injury that could affect his draft status and the team has a bigger need right now on the defensive line. Maualuga could still get plenty of attention in Denver but Jackson could be a tad more intriguing at this point.
16. San Diego, Maualuga: San Diego would jump up and down for a player such as Maualuga. He'd be a perfect fit there. The Chargers have other needs, but Maualuga makes perfect sense -- yes, even after the signing of Dallas' Kevin Burnett. You can never have too many talented linebackers.
First mock draft choice: Knowshon Moreno, RB, Georgia

Second mock draft choice: Brian Cushing, LB, USC

Why the change: Maualuga would simply be too tempting to pass up.
Again, we'll update our picks as we move closer to the draft.