TEMPE, Ariz. -- The Carson Palmer that Arizona Cardinals coach Bruce Arians saw Monday night was the Carson Palmer he's been waiting on to show up this season.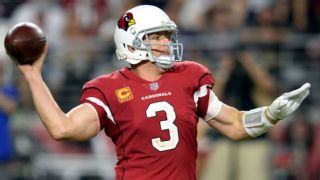 Palmer turned in the best game of a young 2017, throwing for 325 yards and two touchdowns with no interceptions and completing 60.4 percent of his passes. In the first half, when he threw for both touchdowns, Palmer was nearly perfect, completing 15 of 18 passes.
"I don't think our quarterback could have played any better," Arians said. "He was lights-out from the start to finish. Even getting hit that many times, he moved his feet great. He was sound around the pocket.
"He was the quarterback I knew we'd see all year, and we can win with Carson playing like that."
Palmer found a rhythm early that evaded him in the first two games of the season. He completed his first 11 passes of the game and finished the first quarter with a 92.3 completion percentage and 135 yards. (He completed 62.5 percent of his passes in the first quarter in a Week 1 loss to Detroit and 50 percent in a Week 2 win over Indianapolis.)
Palmer threw for only 10 yards in the second quarter, but he finished the first half with his second-highest completion percentage (83.3) through two quarters since he arrived in Arizona in 2013.
Palmer's clip ended up at 60.4 percent after he wasn't as efficient in the second half because he was forced to throw more once Arizona fell behind the Dallas Cowboys and because his protection broke down more often than it did in the first. Palmer was 14-for-30 in the second half.
Still, Palmer's first half left an impression on Arians, who said Palmer's performance gives him "great hope."
"That's the way I've seen him practice the whole time," the coach said. "He's practiced extremely well and from the start to the finish, that's what I would anticipate to see the rest of the season."
Palmer turned in his best outing of the year despite being hit 11 times and sacked six times -- tied with Aaron Rodgers for most in the league this week. He took hits and kept on throwing. Palmer was 3-of-6 on passes that traveled 20 yards or longer in the air, completing two to Larry Fitzgerald and one for a 25-yard touchdown to Jaron Brown.
"This is the best I've seen him in about two or three years," Arians said.