TEMPE, Ariz. -- When Tauren Meadows Jr. sits down inside University of Phoenix Stadium for Thursday's Seattle Seahawks-Arizona Cardinals game (8:25 p.m. ET, NBC), he'll be a young man torn.
The 12-year-old is like any young sports fan: He likes what's cool and the teams that win. For the past few years, his favorite team has been the Seahawks. But Thursday night, he'll have a rooting interest in both clubs that take the field.
On Feb. 17, 2017, Cardinals defensive coordinator James Bettcher and his wife, Erica, helped rescue Meadows after the boy was hit by a car while riding his bike on the way to school. For their efforts, the Bettchers were presented the "Life Saving Heroism Award" by the Chandler (Arizona) City Council in April.
Following the ordeal, Bettcher welcomed Meadows and his father, Tauren Meadows Sr., to the Cardinals' facility last June to meet some players and watch practice. On Thursday, Bettcher surprised Meadows and his father with tickets to the Seahawks-Cardinals game.
"He deserves to be able to be a kid," Bettcher said. "He deserves to be able to ride his bike and be a kid. To see him being a kid that day, that was the most important part."

The accident
The Bettchers pulled up to the intersection that leads them out of their neighborhood in Chandler, Arizona, while taking their son to school.
It was around 8:30 a.m. Their 6-year-old son, Colton, was in the back seat. A sedan waited at the stop sign in front of them. Both James and Erica could see the driver of the car in front of them look to her left as her brake lights turned off and she began to turn the car to the right. Just as the driver accelerated, Meadows and his sister, Tatiyana Hargraves, began to cross the street on their bikes.
Erica knew what was going to happen. She saw it line up. The car. Meadows. The bike.
"You're looking at it in slow motion [like] 'Oh, my gosh, that's not going to happen,'" she told ESPN. "You keep thinking she's going to stop. She's going to stop. And she doesn't stop, doesn't look right -- doesn't even realize she's ran over him."
It was too late. Meadows was hit head-on. The car rolled over him, pinning his legs and his bike underneath. It was instantaneous, James said.
James could barely get his SUV in park before he ran to the driver's side of the sedan in front of him. Erica headed straight for Meadows.
Suddenly the reverse lights of the sedan came on. The woman, Erica said, was panicking.
James reached inside the woman's car and put it in park.
When James ran to the other side of the car, all he could see was Meadows' head and shoulders sticking out from under the car. By then, a man and a woman had rushed over. The man helped James find a jack for the car. The woman rushed Meadows' sister Tatiyana, who James remembered was "screaming bloody murder," home to wake up their father, Tauren Meadows Sr., who had just fallen asleep after a night shift at a local grocery store.
The woman drove them back to the scene of the accident. Once Meadows Sr. saw the mangled bike on the ground, he thought the worst. But when he walked over to his son, he could tell immediately that Meadows Jr. would be OK.
James, amid the chaos, had dialed 911.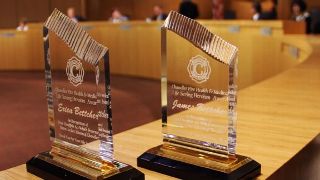 He put the phone on the ground next to him and, with a 911 operator on speaker walking him through what to do next, James and the man who came to help used the jack to lift the car off Meadows Jr.
At that point, no one knew the extent of the boy's injuries. The focus, James said, was on getting the car off him and sliding him out without moving his legs. Meadows Jr. was calm, much to Erica's surprise, she said. Erica and the driver were sitting with the boy, trying to calm and reassure him. Once the car was high enough, James said he slid under and helped move Meadows out.
Soon after, the first responders showed up in waves and began treating the boy.
"Once the emergency vehicles got there, then everything slowed back down and you're kind of putting everything in perspective," Erica said. "It's kind of weird how your brain just takes over. It's kind of out-of-body. It's that fight-or-flight emotion that we have. It's just out-of-body. You don't even think about what you're doing.
"Then the emergency people come and you're like, 'OK, everything's going to be OK,' and then you start thinking about the situation and how much worse it could've been."
Meadows was fortunate. He suffered lacerations, abrasions, a few bruises and deep cuts, but no broken bones. He spent the night in a hospital.
"I was just blessed that he was OK," Meadows Sr. said.

Thursday's game
Meadows Sr. knew people had helped his son. He just didn't know who they were or their names.
When the fire department called weeks later to tell the Meadows that Coach James Bettcher was there, Meadows Sr. didn't know who they were talking about.
Then they said he was the Cardinals' defensive coordinator.
"I was like, 'Wow, that's crazy,'" Meadows Sr. said.
However, there was one minor problem: Meadows Jr. is a Seahawks fan.
Of course, he was only a Seahawks fan until June, when the Cardinals invited him and his father to the team's Tempe, Arizona, facility to watch a minicamp practice. The duo got to meet a handful of players as well as Cardinals president Michael Bidwill. Quarterback Carson Palmer gave Meadows Jr. an autographed football, and linebacker Karlos Dansby gave him a pair of gloves.
The father-son duo will take in Thursday night's game with split emotions. It'll be a chance for Meadows Jr. to see his favorite teams on the field, but could also be a reminder of that February morning.
Following the accident, Meadows' grandparents each bought him a new bike, but he stopped riding to school. Meadows Sr. started driving him after he got home from work every day.
"It's still on my mind," Meadows Sr. said.
Thursday night should provide a chance for them to get their minds off the accident and watch both teams have at it in a divisional matchup.