The Atlanta Falcons have 35 players on their roster who were on the Super Bowl LI team. The New England Patriots have 36. The numbers are a good reminder of the year-to-year turnover for NFL teams, and they help explain why this isn't really a "Super Bowl rematch." That's not to say the Super Bowl doesn't have significance, as head coaches Dan Quinn and Bill Belichick acknowledged the game has been a significant part of the game-planning process. But it only goes so far because 2017 has created new challenges for both clubs, specifically the Falcons' offense and Patriots' defense, which entered Super Bowl LI as the No. 1 units in the NFL.
Patriots defense
Biggest difference since the Super Bowl: Big plays are being given up at an alarming rate, with opponents having totaled 26 passing plays of 20 yards or more. They gave up 44 all of last season. NBC studio analyst Tony Dungy said, "I've coached against a lot of Bill Belichick defenses, and I've never seen one give up this many big plays." Furthermore, the Patriots ranked first in the NFL in limiting yards after the catch (4.05 average) in 2016, but this season they are 29th with opponents averaging 5.96. Why the change? The secondary, in particular, has been wildly inconsistent. That has been somewhat puzzling because the only personnel change from last season has been top free-agent signing Stephon Gilmore taking Logan Ryan's spot, which was supposed to be an upgrade at cornerback. Malcolm Butler also has had some boom-or-bust moments. A more consistent pass rush could help out as well. Other defensive players who played in Super Bowl LI who are no longer on the roster include linebacker Shea McClellin (injured reserve), defensive end Rob Ninkovich (retired), linebacker Barkevious Mingo (Colts), defensive end Jabaal Sheard (Colts), defensive end Chris Long (Eagles) and defensive tackle Vincent Valentine (IR).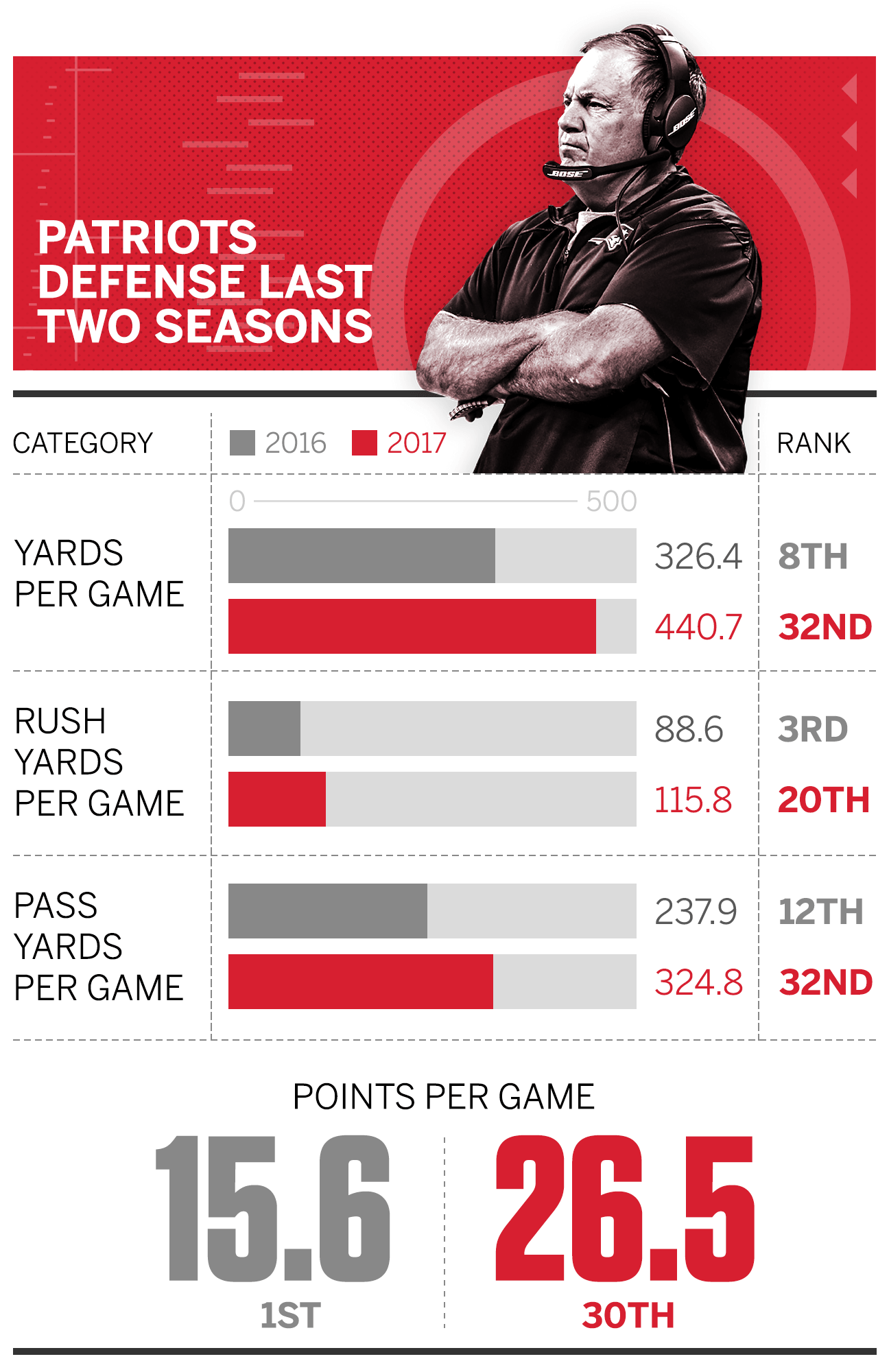 Outlook for the rest of the season: History says the Patriots generally improve as the season progresses, but there are concerning signs. Opponents are completing 66 percent of their passes, averaging 324.8 passing yards per game and 8.6 yards per attempt. The Patriots have allowed 300-yard passing games six times this season, which is double the next team in the NFL. McClellin and Valentine can still return from IR, which would help the front seven, but the real question is if the Patriots can get better play out of their top cornerbacks -- Gilmore, Butler and Eric Rowe -- to cut down on the big plays. If they don't, it's going to continue to be a bumpy ride and they will have to rely on creating turnovers and a bend-but-don't-break philosophy that tightens things up in the red zone. The formula has worked for the Patriots in the past, and it isn't like there is a team in the NFL that is a clear-cut favorite, so Super Bowl hopes remain intact despite the surprising struggles. It helps, of course, to have quarterback Tom Brady, tight end Rob Gronkowski & Co. providing more margin for error for the D. -- Mike Reiss
Falcons offense
Biggest difference since the Super Bowl: For starters, the Falcons have a new offensive coordinator, Steve Sarkisian, who took over after Kyle Shananan left to become the 49ers' head coach. The Falcons kept the same basic principles of Shanahan's outside-zone blocking scheme, but Sarkisian put in some new wrinkles. The players seem to still be adjusting after five games. The Falcons have lacked the explosive plays -- what they define as 16-plus-yard pass plays and 12-plus-yard runs -- they grew accustomed to last season. Case in point is reigning MVP Matt Ryan being 4-of-18 (22.2 percent) for 201 yards with two touchdowns and an interception on throws 20-plus yards down the field. Through five games last season, he was 11-of-18 (61.1 percent) for 460 yards with three touchdowns and no interceptions on such throws. Part of it has to do with Ryan not having a lot of time to work with speedy receivers Julio Jones (foot surgery) and Taylor Gabriel (lower leg) leading into the season because of injuries. Part of it has to do with protection breakdowns. And part of it has to do with not sticking to the ground game with Devonta Freeman and Tevin Coleman, considering how that opens up play-action passes and downfield shots. Turnovers also have been an issue, with Ryan committing seven already, although he's not at fault for all of them. He has six interceptions, one fewer than he had in 16 games last season. All of this has contributed to the Falcons scoring 24.2 points per game after leading the league at 33.8 points per game a year ago.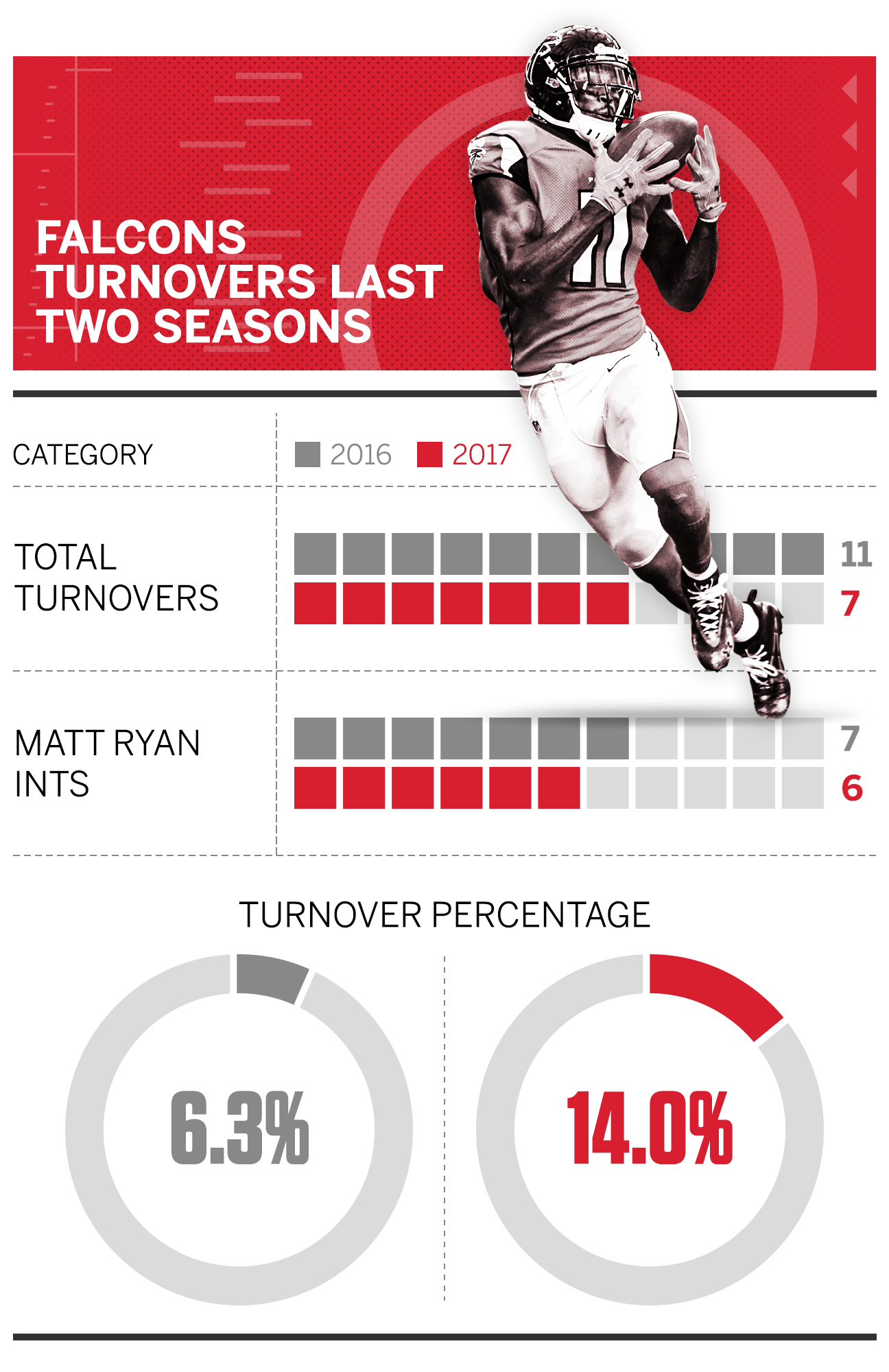 Outlook for the rest of the season: What shouldn't go unnoticed about the Falcons' early-season offensive struggles is that they've faced two of the top scoring defenses -- Buffalo (first at 14.8 points per game) and Miami (third at 16.8 points per game). They should find immediate relief against a Patriots defense that yields 26.5 points per game, ranked 30th in the league. Four of the opponents remaining on the schedule -- the Patriots, Buccaneers, Saints and Cowboys -- all surrender more than 23 points per game. And all but the Cowboys of that group rank in the bottom five in pass defense. The Falcons should make significant strides if they remain healthy, especially if there's a renewed emphasis on the running game and getting Jones more touches. He leads the Falcons with 25 receptions but doesn't have a touchdown catch, which is surprising because Sarkisian emphasized getting Jones more involved in the red zone. The Falcons just have to gain more offensive possessions and more trips into the red zone to take advantage of playmakers such as Jones. Quinn moved Sarkisian from the field up to the coaching booth with hopes of faster communication and a better overall view for calling the game. -- Vaughn McClure