STILLWATER, Okla.— Brandon Weeden had been there before. The only thing missing was some up-tempo entrance music and a sprint from the bullpen. A shorter sprint from the locker room to the field would have to suffice this time. But stepping in for a struggling starter was nothing new for the 26-year-old former minor leaguer who spent his last season in baseball as a relief pitcher.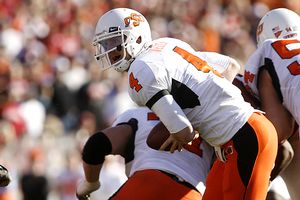 J.P. Wilson/Icon SMI
Oklahoma State quarterback Brandon Weeden is drawing on past experience to prepare for the season."I ran out of the tunnel as fast as I could, grabbed my hat, er, grabbed my helmet and cut loose," said Weeden.
Freudian slips aside, the Oklahoma State quarterback earned his coaches' confidence when he played second-half savior against Colorado in a nationally televised game last November.
Weeden threw two touchdown passes and salvaged a 31-28 win for the Cowboys, who trailed 21-10 with four minutes to play in the third quarter.
"I didn't really get too many nerves, I didn't really hear what was going on throughout the stadium," he said. "The only time I really heard them was when I threw that pass to Kendall (Hunter) and it got really loud. I just didn't realize why."
"That pass to Kendall" was a short eight-yard completion on Oklahoma State's first possession of the second half. But it drew an ovation from a crowd that watched eight of starter Alex Cate's nine first-half passes fall incomplete. Cate's only completion was to a Buffaloes defender, and Mike Gundy chose to make a change at halftime.
Quarterbacks coach Robert Matthews pulled Weeden aside, gave him a brief rundown of the gameplan and sent him on his way.
"It was a dream come true. You wait for that moment two years, basically. Practice, practice and you're finally thrown into the fire in a Big 12 game," Weeden said. "And it's just incredible."
Weeden, a junior, is the likely successor to three-year starter Zac Robinson, chasing his chance to experience that feeling every Saturday this fall. He'll have to beat out a pair of freshmen, Johnny Deaton and Clint Chelf, to do it. Cate, who would have been a senior, left the program after the season.
"Obviously, he's mature," Gundy said of Weeden. "He's excited and he's been studying tape and he needs to develop the leadership role. I think he'll have the chance to do that, and the players are going to follow him. They're going to see, they're going to watch him and see his demeanor and the way he carries himself.
"And now is the time for him to develop those skills."
Weeden's age might not have as much to do with his team's tendency to follow as his position. If a coach opens his mouth about Weeden, it won't be long before the word mature makes an appearance. Weeden says it hasn't affected his relationships with teammates, some of whom are eight years younger than him.
"I don't think a lot of the guys on this team would know I'm as old as I am -- unless you told them," he said.
The task now becomes mastering new offensive coordinator Dana Holgorsen's pass-happy offense that gained more yardage than any team in college football a season ago at Houston.
"I feel pretty comfortable. I haven't had many reps yet, but the minimal reps I have had, I feel good when I'm out there," Weeden said.
And he's not shy about admitting his comfort and confidence stems from that night in the spotlight.
"That was my first real, meaningful snaps," he said. "I felt good coming back for the OU game and throughout bowl practices."
Now, that confidence will have to carry over into the spring and fall as he tries to cement his status as the permanent starter.
"You have to be confident behind center," Weeden said. "If you don't have confidence, you're not going to make plays."