COLUMBIA, Mo. -- Gary Pinkel wants Michael Jordan as his quarterback.
"The good ones [do] what Michael Jordan did. He never played his best game," Pinkel said. "He says, 'I can do better.'"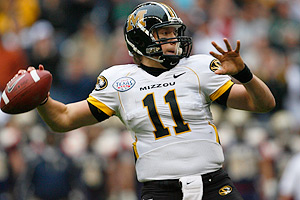 Aaron M. Sprecher/Icon SMI
Quarterback Blaine Gabbert and the Missouri Tigers want to win a divisional title, first and foremost.Never in 15 seasons did Jordan put together that perfect game, and neither did Blaine Gabbert in his first. He won't in his second, and if there's a third, he won't then, either. At least, that's the idea.
"The good ones are never good enough. I tell our great players here that. I said that to [Martin] Rucker or [Chase] Coffman or Chase Daniel or Ziggy Hood or any of those guys," Pinkel said. "Those guys, they drive. They don't ever get caught up in anything they've done well. They just keep driving forward and that's why they do it. That's what you tell Blaine."
There was plenty of good for Gabbert in 2009. He can count his three touchdowns and 319 yards in the season-opening 38-9 win over Illinois, his first career start, on that list. The same goes for a dominating performance (20-27, 298 yards, 3 TD) aided by the acrobatics of Danario Alexander in a 38-12 win over Kansas State. But those are the games Pinkel would prefer Gabbert forget. The spring was a step toward making sure sub-50 percent completion games like Nebraska and Navy never happen again. That's less about stats and more about the score, which favored the Tigers opponent on both occasions.
"We've just got to win football games," Gabbert said. "The individual stats and accolades are nice, but in the end, you're judged on winning football games."
Pinkel made it clear early this spring what he thought his quarterback could achieve next season.
"The thing he has to do is come out here and practice like he wants to be the best quarterback in the country," Pinkel said earlier this month. "That's the bar he's looking for, to be the best quarterback in the country. And he has the ability to do that. He's driven. He works hard."
Statements like Pinkel's don't add to the pressure for the All-Big 12 honorable mention quarterback likely to ascend the ranks of the conference's passers next season. And it sounds like Pinkel's pushes and mindset have gotten inside Gabbert's head.
"There's always things you can work on, it doesn't matter if you're Tom Brady or still in high school," Gabbert said. "When people label you, you've just got to work harder. There's expectations you've got to live up to and that's what our team is about right now. We want to win football games and the teams that are remembered win championships."
If Jordan isn't available, Pinkel could probably deal with Brady as his quarterback.