With his team tucked tight against its own goal line, Christine Michael just wanted to do what he could to get Texas A&M out of a daunting hole.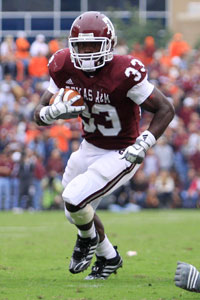 Thomas Campbell/US Presswire
Texas A&M tailback Christine Michael leads all Big 12 freshmen with 684 rushing yards.
But after coming back to the huddle, tight end Jamie McCoy told the freshman tailback to be ready to sprint to the other end zone, providing he could deliver a clearing block against a Baylor defense bunched to stop an inside run.
"Jamie told me that he would get the block and I should be ready to run the distance," Michael said. "And that's exactly what he did. He told me he would get the first guy who came in and I should be able to outrun the rest of the defense."
Michael's record-setting 97-yard touchdown run against the Bears came with some surprising physical exertion. If he hadn't been glancing up at Kyle Field scoreboard, he never would have known that Baylor safety Jeremy Williams was closing on him at about the Baylor 15-yard line as he approached the end zone.
"Honestly, it's kind of hard running 97 yards," Michael said. "I got tired at the end and almost started slowing up until I looked up at the Jumbotron and saw the guy coming up. I saw that and knew I would have to finish."
The touchdown run sparked the Aggies' 38-3 victory which boosted them into a bowl game for the first time since 2007. It also catapulted them into the annual rivalry game against Thursday night with some unbridled confidence in their hopes of notching their third victory in the last four seasons against the No. 3 Longhorns.
Michael has helped spark an emerging running game that has helped the Aggies develop one of the strongest offenses in the nation.
The Aggies have scored at least 31 points in every home game this season and will have confidence they can dent the Longhorns' No. 1 ranked rushing defense.
"It all comes down to one game," Michael said. "We can win if we play good football. We're going to give them our best and see what it leads us to. We're not going to be intimidated by them, not at all."
Earlier in the season, Texas A&M defensive end/linebacker Von Miller had a unique description of Michael's running style.
"He's like a 210-pound rabbit on steroids, with the speed of a cheetah," Miller told reporters. "He's like a hybrid, mutant running back."
Michael said he took Miller's unique description as a compliment.
"I felt it was kind of funny," said Michael, who was A&M's first consensus five-star recruit since Martellus Bennett. "I like to make sure I never stop moving and keep going forward. I want to do what I can to finish runs off."
Some of that movement hasn't always enthralled A&M coach Mike Sherman, who has been concerned about Michael's habit of making spin moves. One red-zone fumble killed a scoring drive against Baylor.
But he's growing more comfortable with the play of Michael, who leads all Big 12 freshmen with 684 rushing yards and ranks seventh nationally among freshmen with an average of 68.4 rushing yards per game. He's topped 100 yards in two of the Aggies' last five games.
Some of his growth has coincided with the recent development of A&M's offensive line. The Aggies produced a season-best 375 rushing yards against Baylor, helping boost them to No. 25 nationally in rushing.
The emergence of the running game has helped A&M galvanize one of the nation's most balanced and productive offensive attacks. The Aggies are the only team nationally ranking in the top 25 in scoring, rushing, passing and total offense.
"Those guys have blocked and worked hard," Michael said. "They give us their best blocks possible. I feel they have come along like the rest of us. We've had our ups and downs and we've tried to bounce back and do what we can to finish the season strongly."
The 5-foot-11, 206-pound Michael is one of the most talented athletes in A&M's program. He sometimes shows that by doing standing back flips -- in full football gear -- during mundane practices.
"That's just me being hyper," Michael said. "I'm always moving and always playful in what I do. It's something I've done for a long time."
And if the Aggies pull off a stunning upset, Michael has promised more gymnastics later this week.
"I'll do a bunch of those if we win on Thursday night," Michael said.