Buffalo coach and former Nebraska quarterback Turner Gill appears to be the choice as the new coach at Kansas.
ESPN.com's Joe Schad is reporting that two sources briefed on the situation have said that Gill is the choice to replace Mark Mangino.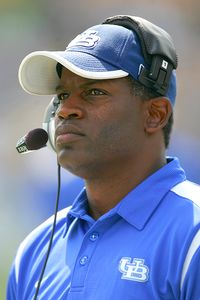 Paul Jasienski/Getty Images
After four seasons at the University of Buffalo, Turner Gill appears to be the coaching replacement for Mark Mangino at Kansas.
Gill has appeared to be the favorite for the job since Mangino resigned on Dec. 3.
In a lot of ways, Gill appears to be a 180-degree departure from Mangino, whose coaching and discipline tactics were blasted by several former and current players.
Gill has the reputation of being a popular coach among players. His daughter, Jordan, is a Kansas student who works in the athletic department offices.
His career record is 20-30 in a four-season stint as Buffalo's head coach. Gill directed the Bulls to the International Bowl last season, but Buffalo (5-7) missed a bowl trip in 2009.
Earlier, he served as an assistant coach at Nebraska from 1992-2004 and with the Green Bay Packers in 2005.
The former Nebraska player has a lot of name recognition that resonates throughout the Big 12 area.
The fact he grew up in Fort Worth and has some existing connections with Texas high school coaches will be critical in his attempts to build the Kansas program. Mangino did a good job of attracting under-recruited prospects from Texas like Todd Reesing, Dezmon Briscoe and Maxwell Onyegbule.
Gill will have to do that and more as he attempts to match Mangino's record of back-to-back bowl trips in 2007 and 2008 -- a first for Kansas.
It will be a tough chore in the Big 12 North with Bo Pelini having Nebraska pointed in the right direction. Also, archrival Missouri appears to be in good shape with Blaine Gabbert as the quarterback for the next two seasons.