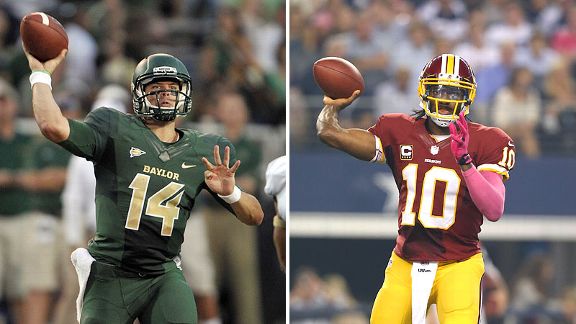 USA TODAY Sports
Bryce Petty (left) is hoping to rival the success of former Baylor QB Robert Griffin III (right).Robert Griffin III put Baylor on the map in 2011, accounting for 47 touchdowns and 4,992 yards en route to winning the Heisman Trophy. Griffin finished the 2011 campaign with an opponent-adjusted QBR of 83.2, fourth-best in the FBS that season.
Bryce Petty, in his first season as Baylor's starting quarterback, has led Baylor to a 5-0 record and a No. 12 ranking in the AP poll. He has posted the second-highest opponent-adjusted QBR (95.1) in the nation. Since the start of the 2004 season, seven quarterbacks have finished with an opponent-adjusted QBR of at least 90 -- three went on to be No. 1 overall picks (Sam Bradford, Cam Newton and Andrew Luck) and one is last season's Heisman Trophy winner -- Johnny Manziel.
Notable Baylor QBs
Petty has put up numbers after four games that are comparable to Griffin's. Petty has posted a Total QBR of at least 90 in four games this season, which already gives him more such games than Griffin had in 13 starts during his Heisman year.
Petty leads all FBS quarterbacks in pass yards per attempt (14.9), as Griffin did in 2011. They also have nearly identical numbers when it comes to completion percentage and pass yards per game.
A key to Griffin's success in his Heisman season was his downfield passing. On passes thrown 15 yards or longer, Griffin led all AQ quarterbacks in 2011 with 23 touchdowns and had the third-highest completion percentage (minimum 20 attempts). In a smaller sample size this season, Petty is completing a higher percentage of such throws than Griffin and is averaging 28.4 yards per attempt, the highest among all AQ quarterbacks (minimum 10 attempts).
Throws of 15+ Yards Downfield
Petty has also performed better than Griffin did on third down. Petty leads the FBS in yards per attempt (17.0) while completing 70 percent of his passes on third down. Petty has converted 55 percent of his third-down pass plays (pass attempts + sacks) into a first down, the sixth-best rate among FBS quarterbacks.
Griffin completed 68 percent of his third-down passes and averaged 9.8 yards per attempt, both of which ranked in the top four of the FBS. Yet he converted on only 38 percent of his third-down pass plays, partially because he was sacked on nine third downs. Petty was sacked on third down for the first time last week against Kansas State.
Before anointing Petty the next RG III, there are two things to keep in mind:
1. Baylor's first five games have been against FCS Wofford, Buffalo (85th-ranked pass defense), UL-Monroe (68th-ranked pass defense), West Virginia (58th-ranked pass defense) and Kansas State (62nd-ranked pass defense). Petty will have opportunities against better defenses because Baylor plays three of its last seven games against teams with a top-40 pass defense.
2. Petty is not utilized as much in the running game, averaging 44.8 fewer rush yards per game and 9.2 fewer rush attempts than Griffin did. Petty does have four rushing touchdowns, which puts him on pace to equal Griffin's 10 touchdowns in 2011.