Posted by ESPN.com's Brian Bennett
The NFL combine officially begins Wednesday, as players check in for the event in Indianapolis. They'll do interviews and psychological testing through Friday before workouts start on Saturday.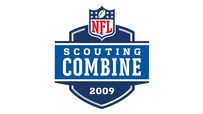 This is the most important job interview ever for the 25 Big East players who were invited to the combine.
The workouts will once again be televised on the NFL Network. Here's a schedule of which position groups go when and which former Big East players will be going through the paces:
Saturday
Sunday
Monday
Tuesday
* Barwin is also expected to work out at tight end