Believe it or not, no team in the country has a better head start on earning a conference's automatic BCS bid right now than Pittsburgh.
The Panthers' two-game cushion in the Big East is the largest margin enjoyed by any of the "Big Six" league or division leaders right now, and of course the Big East doesn't have a championship game. So despite being only 5-3 overall, Pitt is in a highly enviable position.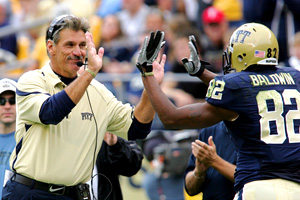 Charles LeClaire/US Presswire
Coach Dave Wannstedt's Panthers control their own destiny to a BCS bowl berth.But this is also a team that has learned not to glue its eyes on the big prize too soon. Last season, the Panthers were ranked in the Top 10 with two games left and knew all they had to do was beat Cincinnati at home to clinch a BCS berth. They wound up losing both games, settling for the Meineke Car Care Bowl instead of the Sugar Bowl. Finishing the season strong became a mantra for the players this entire offseason.
"We all remember what happened in the [Cincinnati] game and in the game before that against West Virginia," left tackle Jason Pinkston said. "So for the seniors and the leaders and the coaches on this team, we have to remind ourselves to finish strong, because we haven't done anything yet."
Maybe 2010 will be the opposite of 2009, and Pitt will follow up a slow start with a big-bang ending. The Panthers began just 2-3, losing all three of their high-profile nonconference games against Utah, Miami and Notre Dame. But they've looked like a different team once Big East play opened, winning all three contests by at least two touchdowns.
That kind of performance was expected of the near-unanimous preseason favorites to win the league, but it has been a process to get to this point. Head coach Dave Wannstedt cautioned in the summer that this was a young team that would take time to jell. That's why he took a different approach with this team compared to last year's senior-laden squad.
"We have so many young players we're trying to develop, and they've done a very good job keeping their focus on 'How can I just become better as a player?'" Wannstedt said. "There hasn't been any talk in the locker room really from day one about, 'OK, we have got to win the conference this year and that's our goal,' every day pounding it in.
"Last year, that was our battle cry every week."
Pitt may hold a two-game edge on everybody and own the head-to-head tiebreaker against Louisville, Rutgers and Syracuse, but it also has arguably the toughest closing stretch of any Big East team.
Starting with Thursday's game at Connecticut, the Panthers finish with three of their final four on the road. Their one home game is the always hotly-contested Backyard Brawl against West Virginia, and they still must travel to improving South Florida and end the year at Cincinnati, which has knocked them out of the title race the past two years.
"It's going to be tough to finish out these next four," Pinkston said. "We're pretty happy to be where we're at, but we know that any days we're not focused and we're distracted that we can lose easily have two losses. Every team in this league is capable of winning the Big East."
Only one team has the major inside edge. It's time to find out whether Pittsburgh can finally take the checkered flag.