Jeff Horton is back in the college ranks, and he has a clear directive: get Minnesota's offense back on track. The Golden Gophers' third offensive coordinator in as many years takes over a unit that struggled mightily with its transition to a pro-style system in 2009. Minnesota finished the season ranked last in the Big Ten in scoring (20.9 ppg), rushing (99.5 ypg) and total offense (306.5 ypg). Horton, most recently the Detroit Lions quarterbacks coach, won't be overhauling the system installed by predecessor Jedd Fisch, but his ability to tailor the scheme around the returning players will go a long way in determining whether the Gophers rise or fall in 2010.
I caught up with Horton earlier this week as he settles into his new job.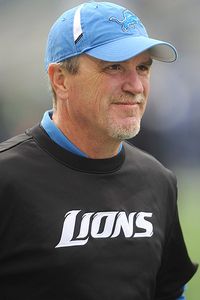 Kirby Lee/Image of Sport-US PRESSWIRE
New Minnesota offensive coordinator Jeff Horton hopes to improve a squad that ranked last in the Big Ten in scoring.Have you had a chance to look at the personnel on tape, or have you spent most of your time recruiting?
Jeff Horton: I've had a chance to watch games and cut-ups from last year. Not all the way in depth, but most of it. I'm excited about what we have. We had a lot of good, young players last year, and there's some good things here. The kids are working really hard in the offseason, so I'm excited to get out there on the field with them.
How similar is what you want to do with what they did last year on offense? I know coach [Tim] Brewster didn't want to have things be too dramatically different.
JH: There are a lot of the same things I like to do. I'll try to pare it down a little bit. I want to be really physical. We need to be able to run the ball to be successful. I've always believed in that because I'm a bit play-action pass guy, and the better you can run it, the better you are with play-action. We want to be able to help our defense by controlling the football with time of possession, protecting the football, those are the things that can help us win. We don't want to get in track meets.
When you look at the offensive line, they had only been in this system for a year. Is it just a matter of them getting used to this style, or do they need to do other things to get back to the way Minnesota played a few years back?
JH: Just the mind-set, I'm going to convey to them in our first meeting that we're going to be a physical football team, we're going to have to run the ball in October and November, when we get some bad-weather games, to win. Even when people know we're going to run, I still want to be able to run it. I just want to create that mind-set of, 'Let's get some runs that we believe in.' We might get stuffed early in the spring because we might keep running a lot of the same plays, but let's get better at something. Let's be able to hang our hat on something. Let's find out who we are, what we can do and who can do it, and then build from there.
You mentioned paring it down. Is it just a matter of finding a few things that this team is good at, and then you can build around it? It seemed like last year, things got too complex for the guys.
JH: I think so. Just being able to understand what you're doing allows you to play fast. [The playbook has] got to be big enough, obviously, to be able to attack in different ways, but be able to be precise enough so players understand where they're supposed to be, how they're getting there and once that ball is snapped, to play fast is a big key. It's like if you go into a restaurant and the restaurant has got a big menu, how many times are you flipping it back and forth, trying to figure out what you want? If you go to a place with a simple menu, it's a lot easier to order. To me, it's no different [with football]. Let's be good at some things. We can figure out what we want to do and then go do it.
As far as the quarterback position, how do you approach that going into the spring? Is it going to be a wide-open race?
JH: I told both kids [Adam Weber and MarQueis Gray] that we're going to compete every day to earn the position. Each day, you're graded, you're judged, you're evaluated. Competition makes the team better, all positions, and quarterback's no different. Let's just be as good as we can be and let's push each other, and then let's see how it shakes out from there.