ANN ARBOR, Mich. -- Michigan players know the deal. The reminders are everywhere.
The Wolverines haven't played a bowl game for 832 days. They haven't beaten archrival Ohio State for 2,333 days. They've endured back-to-back losing seasons for the first time since 1962-63. They're 1-6 in November under head coach Rich Rodriguez. In the last two seasons, they've put up some of the worst defensive numbers in team history. And the program is facing five allegations of rules violations from the NCAA and could be hit with major violations for the first time.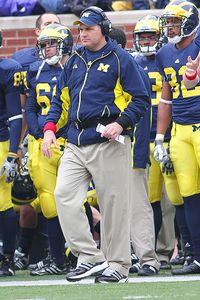 D. Jay Talbott/Icon SMI
There's a lot of change around the Michigan football program in coach Rich Rodriguez's third season.The outside world won't let the Wolverines forget all of this, and it shouldn't. Michigan has the most wins (877) in college football history. Stretches like this simply aren't the norm, especially when you throw in the NCAA allegations and the upcoming hearing before the Committee on Infractions this summer.
Rodriguez, who carries an 8-16 record at Michigan, is undoubtedly on the hot seat in Year 3. So are the players.
"The excuses for it being a new coach are gone completely," senior guard Stephen Schilling said.
"We have no more time," senior cornerback Troy Woolfolk said.
"It's definitely a huge year," linebacker Craig Roh said. "We know what's at stake. We do have that sense of urgency."
The past can't be fixed, and the expectations for the immediate future are as clear as they can possibly be. But the disappointment of what has happened and the pressure what lies ahead isn't creating a toxic environment at Schembechler Hall this spring.
Players aren't walking on eggshells. Coaches aren't updating their résumés. And when the Wolverines head out to the practice field, a dark cloud doesn't follow them.
"When you go out there, your focus is on the next drill or the next drill or the next teaching moment," Rodriguez said. "Everything else outside, at that point, doesn't really matter. So there's no question for all of us, it's a time when it's just us out there, doing what we love doing."
Spring practice at Michigan has been productive, therapeutic, even fun at times.
"Something I'm seeing coach Rod focus on more is just having fun while playing football," Roh said. "The first couple years he was here, he was focused more on developing toughness. Now, rather than hate for our opponents, it's love for each other and having fun while doing that."
Rodriguez hasn't done a complete 180 -- "He's always going to yell; I just think he likes to yell," Woolfolk said -- but players say he and the assistants have seemed different this spring.
"Coach Rod is still coach Rod, but he's just opened up more to us now," wide receiver Roy Roundtree said. "He's still on us hard, but we love him. I feel more comfortable, more relaxed coming to practice every day. [Rodriguez] said, 'Have fun in practice,' and now he's really letting us have fun."
Michigan has a ton its plate this spring, from a legit competition at quarterback to identifying several capable running backs to repairing a defense that loses two All-Big Ten players: Big Ten co-MVP Brandon Graham and cornerback Donovan Warren. Only a handful of starting positions are locked up, and while Michigan should have better competition in many spots, it once again will play quite a few freshmen and redshirt freshmen this fall.
The offense is focused on better ball security (28 turnovers in 2009) and more consistency, while the defense is stressing better communication to avoid the major breakdowns that cropped up throughout the 2009 season.
"We've got to deserve to be good, not expect to be good," Rodriguez said. "And I think we're getting closer to that end."
Rodriguez senses the pressure on his shoulders for 2010, but it's nothing he hasn't dealt with before.
"When you're on the so-called top of the heap," he said, "maybe like West Virginia there at the end, you're preseason top 10 and all that, you feel a great sense of pressure not to let anybody down. When you coach at a place like Michigan, that's the standard every year, and that's OK. It's something that's part of the deal.
"You don't want to dismiss it. It's there. Embrace it. Have it motivate you."
Rodriguez isn't much of a daydreamer, but he does visualize the future, especially in spring practice. And despite a very rough two years, he sees better things ahead.
"If you came over the Schembechler Hall and watched our guys," he said, "whether it's at practice or lifting weights or interacting with each other, there are smiles on their faces. They're enjoying being part of the program. It makes you think, 'Boy, when we've got it cranked up and got it rolling, how much more fun that's going to be.'
"We just need to hope the fruits of our labor show up pretty soon. And it's coming. I know it's coming."