CHAMPAIGN, Ill. -- When A.J. Jenkins left campus for winter break, he didn't think he'd come back.
Jenkins, like the rest of his Illinois teammates, endured an extremely disappointing 2009 season. As part of a wide receiving corps billed as arguably the nation's best in the summer, Jenkins recorded only 10 receptions for 123 yards and a touchdown in eight games played. He had one more reception, three times as many touchdowns and more than double the number of receiving yards as a true freshman at Illinois.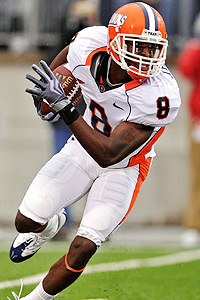 Jamie Sabau/Getty Images
Illinois wide receiver A.J. Jenkins almost transferred.Rumors swirled that Jenkins would transfer, and for a while, they were true.
"Obviously, I was very frustrated," Jenkins said. "I didn't want to come back. I wanted to play closer to home."
The Jacksonville, Fla., native began researching SEC and ACC schools as possible transfer destinations. He wanted to play in a pro-style offense, rather than the scheme Illinois had run in 2009, which seemed to waste players like All-America candidate Arrelious Benn and tumbled to 87th nationally in passing after finishing 20th in 2008.
But Jenkins didn't cut off ties with Illinois or head coach Ron Zook as he weighed his options.
"Last year was tough on everybody," Zook said, "and we had several long talks. I understood where he was coming from. Most players go through some form of that, and when you have the type of year that we had and you're successful, you begin to feel, 'I'm not going in the direction that I need to be going.'"
Zook's support made a difference in Jenkins' decision to return to Illinois.
"Usually, when players try to transfer, [coaches] say, 'I don't want you back,'" Jenkins said, "but coach Zook kept calling me over the break, kept on telling me they still wanted me this year. That was the main thing."
Since making his choice to remain at Illinois, Jenkins hasn't looked back. He stood out in the winter program and carried over his performance to spring practice, where Illinois has been installing a new offense with several unproven quarterbacks.
The 6-foot, 185-pound Jenkins has clicked with new offensive coordinator Paul Petrino, who talked to the junior the first day he was hired.
"He's been the best receiver this spring," said Petrino, who recruited the Jacksonville area and remembered Jenkins as a high school standout. "A.J.'s been a great worker. He can be a real good player for us. Sometimes, change is good."
While researching transfer possibilities back home in December, Jenkins also did some checking on Petrino, hired Dec. 14 to replace Mike Schultz. Jenkins saw a coach who employed a receiver-friendly system, had some NFL experience and had helped wideouts like Harry Douglas reach the next level.
"The reason I was trying to transfer [was] to go to a coach with a long résumé of good, positive aspects, so you can't get any better than this," Jenkins said. "He's a coach that I didn't have before, as far as pushing you to the limit in everything, as a player and as a man."
Jenkins recorded receptions of 50 and 22 yards in Illinois' second scrimmage of the spring, as he's trying to build chemistry with quarterbacks Nathan Scheelhaase, Jacob Charest and Chandler Whitmer. Zook also points out Jenkins has improved his blocking.
Zook sees a tougher player in Jenkins, and a potential team leader for 2010.
"He's a different person," Zook said. "
As for the outlook for this fall, Jenkins wants everyone to stay tuned.
"I'm a person that doesn't hold any expectations," he said. "I don't have any boundaries, so just look on Saturday."