MADISON, Wis. -- Clayton Thorson saw it coming. But when you see the same thing often enough, it will start to disappear.
It would have been impossible to be inside Camp Randall Stadium on Saturday afternoon and miss Wisconsin safety D'Cota Dixon take off from his spot in the secondary to meet Thorson in the end zone on what amounted to the last significant play of a 33-24 Wisconsin win.
The battered Wildcats quarterback said he should have thrown the ball away, "no ifs, ands, or buts." Instead, Dixon dragged him down in the end zone for Wisconsin's eighth sack of the day and a game-clinching safety.
"This is our defense," said senior linebacker Garret Dooley, who contributed three of the eight sacks that kept Thorson on the run and looking over his shoulder. "I think it's similar to the last couple years. That's kind of how we've always been."
Wisconsin's defense is once again a Wisconsin defense. The Badgers held veteran running back Justin Jackson to a total of 25 rushing yards and kept Northwestern's offense more or less dormant until a late scoring surge in the final five minutes of the fourth quarter.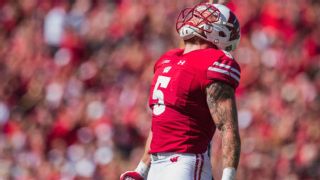 Despite introducing its third defensive coordinator in as many years, Wisconsin enters October in its normal position among the nation's 10 best units in scoring defense, rushing defense, total defense and third-down defense.
The strength of this iteration of the Badgers' defense under Jim Leonhard is, as usual, its balance and variety. Saturday was Dooley's day at center stage, but on any given day that spotlight could just have easily belonged to Dixon, T.J. Edwards, Ryan Connelly or any number of other plug-and-play, high-energy, low-visibility defenders wearing a red jersey.
Six different Badgers contributed to the sack total against Northwestern -- two linemen, two linebackers and two defensive backs. Wisconsin players said they could feel momentum start to build in their favor after a third-down stop on the first series of the game and steadily increase as Thorson and company tried to sort out where the pressure would come from next. It felt familiar.
"It was a bunch of energy plays with guys not giving up on the backside and getting to the quarterback," Edwards said. "I think [that comes from] just the start of Big Ten season. It's so fun to get out there with physical football."
Wisconsin heads into the thick of its league schedule as the No. 9 team in the nation and a heavy favorite to play for a Big Ten title for the second straight year. There is a good chance you'll hear less about them than any other program in a similar position during the next six weeks due to a combination of an uninspiring slate of opponents and the rest of the college football world perhaps falling victim to the same trap that snared Thorson late in Madison this weekend.
We've seen this Wisconsin plenty of times before. We won't know for sure if this group is capable of getting over the hump that separates 10-win seasons from championship seasons until mid-November when another top-10 team, Michigan, comes to town.
The formula of a strong running game and a suffocating defense -- "complementary football" is what head coach Paul Chryst calls it -- is 5-5 against ranked opponents in the past three-plus seasons, a coin flip. Maybe that's why it's easy to overlook the threat Wisconsin could be to the East Division juggernauts and others beyond the Big Ten. If you see something often enough, it starts to disappear.
Chryst's Badgers have never been far from climbing that last bit of the mountain, though. His record in Madison is 25-6 and -- save for a loss to No. 3 Alabama in his debut -- his teams have never lost by more than a touchdown. They've never been more than one or two big plays -- such as a game-clinching safety in the fourth quarter -- away from victory. Defenders such as Edwards and Dooley said in their minds that making sure they finish strong is the key to taking the next leap forward as a program.
Dixon's sack on Saturday was fueled a bit by revenge. Thorson shucked an earlier tackle attempt from the safety with a strong stiff arm. Dixon tracked down the quarterback during postgame handshakes to let him know he wasn't going to let them happen to him twice.
"I had to get you on that one, brother," he said.
Perhaps that's why Thorson hung on to the ball while he watched Dixon streaking toward him at full speed. Maybe he thought he could escape. Maybe he didn't see the threat barreling forward in broad daylight, hidden in plain sight.