IOWA CITY, Iowa -- Before its 55-24 romp over Ohio State last week, Iowa ranked 85th nationally in yardage margin. It had allowed 183 yards more than it gained over the course of eight games.
The Buckeyes were No. 1 in the same category, with a 2,150-yard edge on its foes.
In total offense, Iowa ranked 103rd, averaging 345.9 yards -- one spot ahead of Oregon State and three behind Kansas, solid picks as the two worst teams in the Power 5.
And somehow, Iowa hung 487 on Ohio State. Numbers, you see, cannot make sense of that scene in Iowa City.
Throw out logic, too, in times like these. Because logically speaking, the Buckeyes, after a thrilling win over Penn State a week earlier, should have trucked into Iowa City with a full tank of momentum and energy. Iowa, meanwhile, had lost three of five Big Ten games.
History does no better. Ohio State had won five straight over the Hawkeyes and 13 of the past 14 meetings.
So what happened Saturday afternoon at Kinnick Stadium? The college football world, still abuzz over Nate Stanley's five touchdown throws, wants to know. The Hawkeyes, almost a week later, wish they knew -- and how to make it happen again.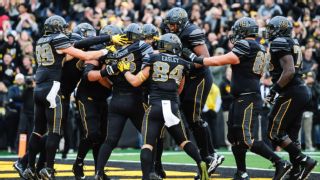 "Everything came together," Iowa linebacker Josey Jewell said. "If all three phases are good, games like that can happen."
Iowa debuted this week at No. 20 in the College Football Playoff rankings as it prepares to head to Camp Randall Stadium to face No. 8 Wisconsin on Saturday (3:30 p.m ET, ABC). Coach Paul Chryst's team is vying to complete the first 10-0 start in school history and to secure its spot in the Big Ten championship game.
But a frightening reality awaited the Badgers when they viewed the film of Iowa from last week. The jersey numbers and names looked familiar. The level of play did not.
Wisconsin had no solid explanation for it, either.
"It's fun to watch as a coach to see teams do that," Wisconsin defensive coordinator Jim Leonhard said. "But obviously, it's not the team you want to play a week later."
Iowa coach Kirk Ferentz does not search for higher meaning in a performance like his team's against Ohio State.
"Maybe I'm an optimist," Ferentz said, "but I've always believed in our people. And the people we have on the field right now, the people coaching them and what we're asking them to do, I believe in that."
Don't be shocked, the Hawkeyes said in the days after their 31-point win. No, the Hawkeyes didn't see it coming, Ferentz said on Tuesday. But good execution still counts for something.
It's a better explanation than he offered Saturday.
"I thought we blocked for the first time like you need to if you're going to be on the varsity," Ferentz said after the game.
What is this, "Friday Night Lights?"
His initial reaction, no doubt, relates directly to the youth on Iowa's offensive line. The Hawkeyes have turned to a pair of freshmen at tackle. Because of injuries to seniors Ike Boettger and Boone Myers, left tackle Alaric Jackson has started every game this season. And Tristan Wirfs has started the past four on the right side, the first true freshman tackle to start even once in Ferentz's 19 seasons at Iowa.
Youth has been served elsewhere for Iowa, from the sophomore Stanley at quarterback to his dynamic pair of tight ends, sophomore Noah Fant and freshman T.J. Hockenson, both of whom caught two touchdowns against Ohio State.
Sophomore defensive end Anthony Nelson leads Iowa with six sacks. Sophomore safety Amani Hooker turned the first play from scrimmage last week into a pick-six of Ohio State's J.T. Barrett.
Maybe Iowa is just coming of age.
"No one had any faith in us besides the guys in this building," junior linebacker Ben Niemann said.
Stanley said the performance was a "wake-up call," serving as an indicator of the level for which Iowa should strive each week. After the trip to Wisconsin, Purdue and Nebraska remain on the schedule. A nine-win regular season remains within reach.
First, the Hawkeyes wouldn't mind wrecking the last Big Ten hope for the College Football Playoff. They bumped Ohio State from contention. Why not Wisconsin, too?
"We would love the opportunity to do that, I guess," Niemann said. "It sounds bad, but we want to win every game."
Including the game Saturday. Especially Saturday, some might say.
Easy explanation there, in contrast to the method of victory over Ohio State. Iowa and Wisconsin are fierce rivals. The programs are likely more similar than any two others in the Big Ten. And the visiting team has won six straight games in the series.
"We've been playing Iowa for years," Wisconsin linebacker Garret Dooley said, "and each team knows what the other is going to bring to the table. You know what you're going to get from them. And they know that. But they think that they can still just run it down your throats."
In other words, no surprises this week.