The Big Ten awards and all-conference teams will be revealed tonight (Big Ten Network, 8 p.m. ET), giving us plenty to talk about in a week featuring only one conference team (Illinois) in action.
You'll have to wait a bit longer for my All-Big Ten teams, but I will reveal my picks for the four major awards this afternoon. Actually, because this is election month, I'll endorse candidates for Offensive Player of the Year, Defensive Player of the Year, Freshman of the Year and Coach of the Year. I'll leave the Offensive and Defensive Linemen of the Year up to the coaches, who know line play a lot better than I do.
I endorse Wisconsin running back John Clay for Big Ten Offensive Player of the Year.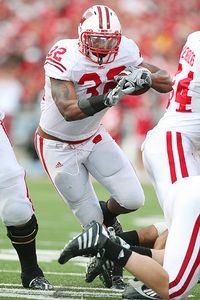 Matthew Emmons/US Presswire
Wisconsin running back John Clay leads the Big Ten with 13 touchdowns.Let's get started.
Some might argue Clay fumbled away the top spot in Saturday's loss to Northwestern, but each of his three primary challengers for this award -- quarterbacks Daryll Clark, Mike Kafka and Joey Elliott -- all also committed critical turnovers in losses earlier this year. Clay has been undoubtedly the Big Ten's top running back, rushing for 100 or more yards in seven games, including each of the last four. He leads the Big Ten with 13 touchdowns and reached the end zone in eight of Wisconsin's 11 games.
The 6-1, 248-pound Clay is the focal point for opposing defensive coordinators in the Big Ten. How many other offensive players in this league carry that distinction?
You can make cases for Clark, Kafka or Elliott as well, but the quarterback play in the Big Ten wasn't spectacular this year. Clay had only one bad performance (against Wofford), and while his numbers dipped against both Ohio State and Iowa, he wasn't the same after an ankle injury in the loss to the Hawkeyes. The redshirt sophomore has 1,224 rush yards through 11 games and will add to that total Dec. 5 at Hawaii.
In a season without many offensive superstars in the Big Ten, Clay rose to the top with his powerful running.