Danny Hope knows that 5-7 isn't good enough. But if ever a team deserved to feel good about a sub-.500 season, Hope's Purdue squad can hold its head high. After a snake-bitten 1-5 start, Purdue never quit and played its best football in Big Ten play, going 4-4 in the league with wins against both Ohio State and Michigan. Though the Boilers won't be going bowling, they snapped several troublesome streaks this fall and generated momentum for the future.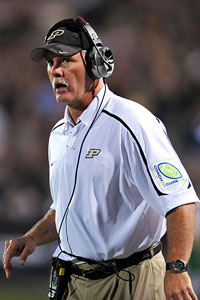 Matt Cashore/US Presswire
Purdue head coach Danny Hope's Boilermakers won at Michigan for the first time since 1966.I caught up with Hope earlier this week to talk about his first season at the helm of the Purdue program.
What's the one thought you'll have about this team as you look back at your first year?
Danny Hope: I know there was some great groundwork laid and some things that our seniors established that will be very important that they pass on to the underclassmen. We were a football team in 2009 that never quit, and our seniors can pass that on to the guys coming back. We were a team that did a great job of sticking together when things didn't go right. We were a group of guys that never doubted or never complained. So there were a lot of the intangibles, some of the most important things about your football program, that was the groundwork laid by our seniors to pass onto the underclassmen.
You said you guys were a good team even when you sat at 1-5. Was there ever a concern that you wouldn't be able to show that?
DH: No, because the guys came out and just continued to work so hard. They did a great job of keeping the faith and sticking together. Regardless of the outcome, we made a commitment to each other that we were going to have fun playing football. We love football and we dedicate our lives to it, and even though things didn't go quite as well as we wanted to at the beginning of the season -- we started off with an unattractive record -- we made a commitment that we were going stay together and have fun. We weren't that far off. We had turned the ball over so many times and still competed on Saturday right up until the very last play of the game. So we had a lot of reason to keep the faith.
When I look back at the season, there are a lot of things our seniors can hang their hat on. There were jinx-killers, if you will. We had a 20-game losing streak against ranked opponents, and that's good to get that thing snapped. We had a 10- or 11-game losing streak on the road, and we had not won up in Ann Arbor for almost half a century. It was only the third time ever of beating Ohio State and Michigan in the same year. We were picked to finish at the bottom of the conference and we ended up in the middle of the conference. We were only a couple plays away from winning eight or nine ballgames. We were really only out of one game, the Wisconsin game [a 37-0 loss]. We had a 3,000-yard passer [Joey Elliott] and an almost 1,000-yard rusher [Ralph Bolden], a 1,000-yard plus receiver [Keith Smith] on an offense that only had three or four starters back. We kept the [Old Oaken] Bucket here.
This football team, even though we didn't win as many games as we'd have liked, they took the field on Saturday not really caring who the opponent was and really believing they could win. That's a huge step for our football team. In some ways, we defied all odds. You look at the potential of who's in the Rose Bowl, and it's Ohio State and Oregon. We beat one [Ohio State] and we were a play off in the other [Oregon]. So there were a lot of great moments. I'm disappointed that we didn't win one or two more games and get ourselves bowl eligible, but I don't know that I would exchange that one game for the groundwork that was laid.
You mentioned all those streaks that you got off of your back. Is it easier, then, to move forward? Will guys go into it with more confidence, not having to worry about those negatives?
DH: I don't think there's any question about that. I look back to when we were here the first time with coach [Joe] Tiller. We had two games, two years in a row, where we were behind to Michigan State by two scores. And they had the ball and the lead and there were two minutes to go. And we won both of those games. And then after that happened, we never thought we were ever out of another football game. So you knock off a seventh-ranked Ohio State football team, and we hadn't done that in a long time, and you realize, 'Hey, we can beat anybody.' And you go up to Michigan and win for the first time since 1966 and you realize you can go on the road and have a chance to win against anybody, anywhere. I know it's not the greatest of Michigan teams, but they're very talented and it's still Ann Arbor.