LOS ANGELES -- Nebraska's Ndamukong Suh put the defensive tackle position on the map this season, bull rushing his way to the Heisman Trophy presentation.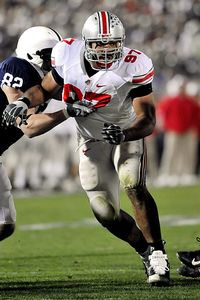 Randy Litzinger/Icon SMI
Ohio State's Cameron Heyward is one of college football's most dominant defensive tackles.Suh had the amazing ability to dominate games, namely the Big 12 championship against Texas, from a position that largely goes unnoticed. Anyone who watched Ohio State's matchups with Penn State and USC this fall saw the same type of dominance from Buckeyes defensive tackle Cameron Heyward.
The 6-6, 287-pound Heyward often looked like the best player on the field, even though he didn't receive first-team All-Big Ten honors. It's hardly unusual for elite interior linemen to fly under the radar, but Suh changed the game a bit this fall.
"Suh is a great player," Heyward said Wednesday. "Hopefully, one day I can be in the same position. Maybe next year."
Those last two words will bring smiles to Ohio State fans. Heyward might be Ohio State's most NFL-ready player, but he expects to return to Columbus for his senior season.
Of course, he has some immediate business Friday against No. 7 Oregon in the Rose Bowl Game presented by Citi (ABC, 4:30 p.m. ET).
"I look forward to coming back," he said. "Right now, I'm enjoying time with my [teammates]. I'm leaning toward staying because these guys are my brothers."
Heyward's teammates will be thrilled to have him back in 2010, even though they see his obvious potential to turn pro.
"Some of the guys told him to go [pro] after the great season he had," left tackle Jim Cordle said. "But you could tell he was never going to leave. He wants to stay, wants to get his degree, wants to be a senior. It's only going to make him that much better.
"After next year, he could be a top 5 pick."
Cordle should know. He gets to face Heyward every day in practice, which isn't always fun.
Though Cordle would occasionally get the upper hand on technique issues, Heyward's brute strength was hard to contain. At least opposing offensive linemen didn't fare much better, as Heyward recorded nine tackles for loss and a team-leading 5.5 sacks this fall.
"He's a big, big kid," Cordle said. "When he puts that head into you, you go backwards. It was just fun to watch him dominate great O-linemen all year. It made me feel a little bit better about myself in practice."
Perhaps the most encouraging thing about Heyward is he doesn't claim to be a finished product. And if things go right next fall, he could end up in New York in early December.
"Cam is going to be a very good player," Ohio State head coach Jim Tressel said. "He is right now. If he gets a year bigger and stronger, that type of thing, he'll be a guy people will take notice of for sure."