Michigan State is 7-1 with its lone loss coming at Notre Dame. The Spartans have been led by one of the best defenses in the nation. They are allowing 12.2 points per game, third fewest in the FBS, and have given up more than 17 points just once – a 42-28 win at Indiana.
Yards are tough to come by
Michigan State's defense has allowed the fewest yards per play (3.5) and yards per game (215.0) in the FBS. The Spartans have held every opponent to their season low in yards per play except for Purdue.
Michigan State Defense
This Season
One reason for Michigan State's success is that it does not give up big plays. The Spartans have allowed 19 plays of 20 yards or more all season, second fewest in the nation. They allowed 16 of those 19 plays in the passing game. In the run game, Michigan State has allowed 10 carries to gain 10 yards or more, seven fewer than any other FBS team.
With yards coming at a premium against the Spartans, it should come as no surprise that Michigan State is the only FBS team that has not allowed a touchdown drive longer than 75 yards this season.
Spartans stuff the run
Michigan State is the only FBS team that has held every opponent to fewer than 100 rushing yards this season. The Spartans allow 2.1 yards per rush, on pace to be the lowest by an FBS defense since TCU allowed 1.7 during the 2008 season.
One key to the Spartans' success is they have not allowed much room to run. In eight games this season, Michigan State has allowed a total of 71 rushing yards before contact. To put how good that is in perspective, the AQ average for rushing yards before contact allowed per game is 79.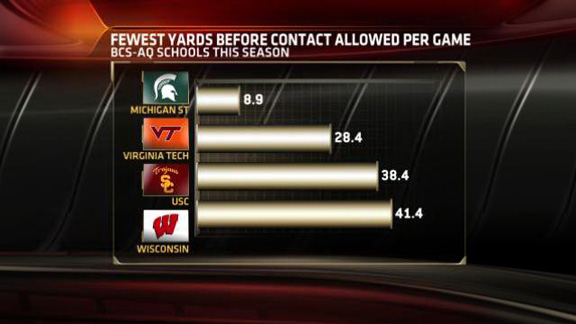 Michigan State is able to stuff the run without loading the box. The Spartans have averaged 6.5 defenders in the box on running plays in conference games, second fewest in the Big Ten behind Ohio State.
Spartans get off the field
Michigan State has forced a three-and-out on 49 percent of its opponents' possessions, tied for second-highest percentage in the FBS. The key has been forcing opponents into third down and long. Opponents have had at least 6 yards to go on 66 percent of their third downs against the Spartans, tied for sixth most in the FBS. As a result, opponents have converted a first down on 28 percent of their third downs against Michigan State, the third-lowest conversion rate in the FBS.
With Michigan State forcing opponents into a lot of passing situations on third downs, the Spartans have not conceded much on the ground. They have allowed an FBS-low six rushing first downs on third down. On 34 third-down carries this season, the Spartans have allowed a net of negative-1 rushing yard.
Highest Defensive EPA Per Game
This Season
Michigan State's defense averages 14.4 EPA per game this season, third best in the FBS. That means Michigan State's defensive unit has added an average of 14 points per game toward its net scoring margin by controlling field position, forcing turnovers and limiting its opponents' scoring.
The Spartans will face interstate rival Michigan at home Saturday. The Wolverines' offense is led by Devin Gardner who has a 42.9 Total QBR in two road games this season and an 88.4 at home. This will be Gardner's first game at quarterback against Michigan State. If the Spartans can continue their defensive prowess, they should be in good position to get their fifth win in their last six games against the Wolverines, including its third straight in East Lansing.