Jim Tressel may go on to win another national championship at Ohio State.
He'll likely win more BCS bowl games and more Big Ten titles. When he's finished coaching, he might enter politics or open his own sweater vest manufacturing company.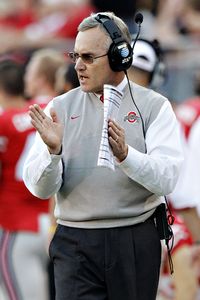 AP Photo/Jay LaPrete
Ohio State coach Jim Tressel is going for his sixth straight win against rival Michigan.
But when we look back on Tressel's place in college football history, he will always be remembered for this week. Michigan week.
No one does it better.
Head coaches of national powerhouses are judged primarily on their ability to win games in early January, and Tressel is no exception. But their records against archrivals aren't taken lightly, either. Tennessee's Phil Fulmer got the axe last year largely because of his struggles against rivals Florida, Georgia and Alabama. Florida's Urban Meyer wins national titles, but he also pleases fans by beating rivals Georgia, Tennessee, Miami and Florida State.
You can knock Tressel for his three-game losing streak in BCS bowls, his consecutive double-digit losses in the national title game, his management of quarterback Terrelle Pryor or his conservative play-calling. On those topics, swing away.
But when it comes to the Ohio State-Michigan game, Tressel is king. He boasts a 7-1 mark against Michigan, including wins in each of the last five games. He has beaten Michigan when Ohio State is the better team (2008, 2007, 2005, 2002) and even when Michigan might be the superior squad (2001, 2004). He beat Michigan in the most hyped regular-season game in recent years, the No. 1 vs. No. 2 matchup in 2006 at Ohio Stadium.
Tressel is one of the reasons Lloyd Carr no longer coaches the Wolverines. Carr went 1-6 against The Vest. In Rich Rodriguez's first game against Tressel, Ohio State spanked Michigan 42-7.
And it's not just the record. Tressel plays up this rivalry the right way. He makes it a big deal without inciting the opponent. He doesn't need unique circumstances -- like Justin Boren's transfer from Michigan or Pryor's flirtation with Rodriguez -- to get his players motivated.
"It's an exciting week," Tressel said last year at the start of Michigan week. "Our guys can feel the excitement on the campus and in the community. It's the reason many of them chose to go to Ohio State or to go to Michigan was so they could be a part of this game for four or five years and it's just a little bit different feeling. It's a hard one to explain unless you've been there."
You can feel it at Ohio State.
Seven months before The Game, you walk into the office of co-defensive coordinator Jim Heacock. On the wall, Heacock has a sign that reads, "No Ohio State team has defeated Michigan 5 times in a row."
The 5 is crossed out and replaced with a 6.
Tressel puts this game on a pedestal, and it trickles down throughout the rest of the program. Ohio State already has a Rose Bowl berth essentially locked up, but if you think the Buckeyes will come out with any less fire Saturday at Michigan Stadium (ABC, noon ET), remember who coaches them.
After Saturday's overtime win against Iowa, Tressel said his players could enjoy the win until midnight.
"When the clock strikes 12, we know what week it is," he said, "and that's exciting."