The same scene will play out in just a few weeks in Vancouver at the 2010 Winter Olympics.
Buffalo's Ryan Miller will be facing a barrage of shots and Boston's Tim Thomas will be watching from the bench. While most Bruins fans will enjoy watching Miller protect the net for the good old USA team, that sight brought despair for Boston backers Friday night in Buffalo.
[+] Enlarge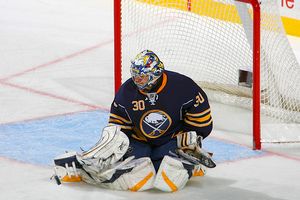 Rick Stewart/Getty Images
Sabres goaltender Ryan Miller made 30 saves to send the Bruins to their sixth straight loss.
Miller, the odds-on favorite for the Vezina Trophy and a sure-fire Hart Trophy candidate, baffled the struggling Bruins with 30 saves in a 2-1 Sabres victory. Boston outshot (31-23) and outchanced Buffalo in its first game since last Sunday, but couldn't prevent its losing streak from reaching six games.
During their four days off from game action, the Bruins talked about hitting the reset button and getting a fresh start. Well, they did that. They proved during their loss to the Northeast Division leaders that they're right back where they were in November and December -- solid defense, strong goaltending, and nothing resembling offensive finish.
Fortunately, the effort and energy was much better than it has been in weeks. And that offensive ineptitude is curable with a few more penalties drawn to earn power plays, a little rust coming off Marc Savard's game, and maybe even a trade that could give the team a jolt.
Now the Bruins must do something they haven't really done all season: put together consecutive 60-minute performances. Unlike the home-standing, conference-title contending Sabres of Friday, Saturday's opponent at TD Garden -- the Los Angeles Kings -- is in the midst of a five-game Eastern road swing. While Kings goaltender Jon Quick is also a Team USA Olympian, he's not quite in Miller's class yet and has shown a tendency to get a little antsy and out of position if a team challenges him and creates traffic.
The schedule doesn't get any easier from here until the Olympic break, so the Bruins have to take advantage of a team that might be road weary Saturday night.