It's time to break up a marriage, and I'm not talking about the one that's dominating the sports world's attention.
I'm talking about the one at the top of the Bruins' defensive depth chart, where Zdeno Chara and Derek Morris -- Boston's best two all-around defensemen -- have been playing as a pair for the entire season. The Chara-Morris combination has been, Chara's offensive drop-off aside, everything Boston wanted it to be at both ends of the rink. Morris has been the offensive upgrade over Aaron Ward the Bruins' brass thought he could be, while not giving up much in the defensive zone. When the time has come to shut down opposing top lines, Chara and Morris have gotten the call and for the most part done the job.
[+] Enlarge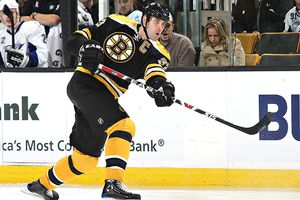 Bruce Bennett/Getty Images
Playing next to Zdeno Chara seems to turn pedestrian defensemen into top-flight blueliners.
The Bruins rank sixth in the NHL with 2.36 goals allowed per game -- a far cry from the first couple weeks of the season when it looked like the defensive fortress they built over the last two seasons was crumbling. A lot of the credit for salvaging Boston's goal prevention goes to the emergence of Tuukka Rask as a Calder Trophy-worthy goaltender and the tightening up of the penalty kill in the aftermath of Daniel Paille's arrival. Boston's defensemen, obviously, have also done a formidable job in their own zone. But -- as the coaches and players never fail to point out -- there's always room for improvement.
Boston's defense could be even more suffocating with crisper passing and better decision making on breakouts and smarter positional play on the attack. In order to achieve those improvements, the Bruins have to consider splitting the Chara-Morris pair in order to provide more balance to their back end.
While Mark Stuart and his rotation of partners (Andrew Ference, for a time, and Matt Hunwick and Johnny Boychuk recently) have provided the Bruins with a reliable third pair that rarely hurts the team in its limited minutes, the pair of Ference and Dennis Wideman has struggled to find the form that made it a positive for the Bruins last winter. Wideman, who also did not fare well when paired for a time with Hunwick, has struggled mightily. He's become more like the high-risk-no-reward Wideman of two years ago than the potential No. 2 defenseman he resembled last season. An early-season shoulder injury and a recent undisclosed lower-body ailment might have taken a toll on the Wideman, but that provides all the more reason to juggle the pairs. A move has to be made to put Wideman with a partner that protects him or relegates him to fewer minutes.
The cure for the Bruins' ills could be just as simple as switching Morris and Wideman. Playing next to Chara seems to make even the most pedestrian defensemen (remember Andrew Alberts and Matt Lashoff actually resembling top-four D-men?) into top-flight blueliners. Of course, removing Morris from Chara's side could advance the clock to midnight on his Cinderella-like return to top-four form, but his play taken separate from his partner's identity makes you think he's regained his confidence and desire (which he admitted before the season his stay with Phoenix had sapped from him) and he could become the primary orchestrator on a Chara-less pair.
A more drastic maneuver could see Boychuk moved up to Chara's pair and Wideman dropped to the third pair, where his ice time would no longer rank him second (that's right, second) on the club. Considering head coach Claude Julien's love for Wideman, the type of love that often earns him more minutes than Chara, we're not likely to see a major slice of Wideman's role.
There are other permutations, both involving Chara and Morris staying together or splitting up, which could be sampled but would probably not cause much of an improvement. With Hunwick out of the picture, the Bruins have three lefties and three righties, so asking someone to play their off side isn't necessary.
The proof is in the play, most egregiously when the Islanders turned a turnover into an overtime game-winner Saturday and when Montreal made Boston pay for a sloppy line change last week. If Ference and Wideman are the Bruins' No. 2 pair for the long haul, Boston will not be a Stanley Cup contender. Barring a trade, these are the six or seven defensemen Julien has to work with. Breaking up his No. 1 pair of Chara and Morris is a risk that could leave the Bruins with a less spectacular top duo but, in the long run, could allow the Bruins to boast a legit, championship-caliber top four.