WILMINGTON, Mass. -- Matt Hunwick knew that after he was a healthy scratch Saturday against Toronto, only hard work and solid practices would earn him a spot back in the Bruins' lineup. He just didn't know how soon that opportunity would come or that when it arrived he'd be asked to play out of position.
But Thursday night in Boston's 5-2 win over Toronto, Hunwick was not only suited up but skating at forward alongside Shawn Thornton and Steve Begin on the Bruins' energy line. He responded with two hits, two shots on net and a plus-1.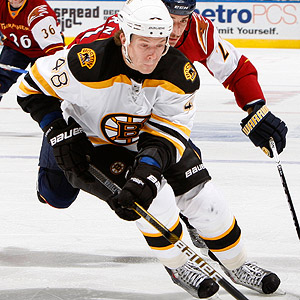 Kevin C. Cox/Getty Images
Hunwick skated at forward alongside Shawn Thornton and Steve Begin in the Bruins' 5-2 win over Toronto on Thursday.
"Starting last year, I got some chances to play forward. I'm always excited to get in there, especially as a forward where you're able to skate a little bit more and play a little bit different style of game," he said after he practiced back in a black defensemen's sweater at Ristuccia Arena on Friday morning. "It's all thinking the game. I know our systems, I know where our forwards should be. When I go out there, it's an easy transition for me. I think it'd probably be harder for a forward trying to switch back to defense."
Last year, Hunwick skated in a handful of games up front when the Bruins had injury problems. Playing mostly with Marc Savard and Phil Kessel, Hunwick even scored a goal from his unfamiliar perch. Playing with Begin and Thornton, after Byron Bitz's illness caused a game-day lineup shuffle, obviously brought with it different responsibilities. But he adapted well.
"No matter what line you're playing on -- obviously things were a little different last year when I was playing with Savvy, maybe you're a little bit more offensive-minded just because you know that he's going to make good plays and you can go to the net and create things a little bit more," said Hunwick, who has posted 4-3-7 totals in 29 games this season. "But probably the biggest thing is, when you're playing on a checking line, you want to be smart, make the sure play."
There's no telling if Hunwick's play up front will earn him a chance to get back into the mix along the blue line, especially with his replacement, Johnny Boychuk, more than holding his own back there. If it's any consolation to Hunwick, coach Claude Julien appreciated what he saw out of his versatile second-year player.
"Matt has always done a good job at the wing ... but [Thursday] night on that line, he was good on the boards," said the coach. "He made the simple plays. He did what he had to do. He is a good skate, so he is a guy you can easily put up there and know he is not going to hurt you."
Rotating the A
Julien said before the season that he would rotate the Bruins' second alternate-captain A month to month. So it looks like someone will probably replace Steve Begin on Saturday.
"Somebody will see it on their jersey tomorrow. ... We'll see," Julien said. "There's a little bit of thinking I have to do before I decide or we decide. We'll discuss it with the coaches. There are some guys worthy of it but we'll make that decision probably before the game."
Loose pucks
Dennis Wideman (maintenance) and Bitz (illness) did not practice Friday but were scheduled to make the road trip to Long Island for Saturday night's game, according to Julien. ... While we're still at least days away from seeing injured forward Milan Lucic (high ankle sprain) back on the ice, he'll be appearing on the "VH1 Top 20 Video Countdown," which will air Saturday at 9 a.m.