BOSTON -- The book is officially closed on the "Phil Kessel vs. the Bruins" story.
From here on out, Kessel is just another dangerous offensive weapon the Bruins have to account for when they play Toronto or whatever teams he plays on over the next decade or so.
For the second time in a week, the Bruins kept Kessel off the score sheet Thursday night, limiting him to two shots on net in a 5-2 win at TD Garden. Sure he was a little more active that he was Saturday -- firing three shots wide of the goal and one that was blocked -- but the word "nonfactor" easily could have preceded his name for all 120 minutes of action.
[+] Enlarge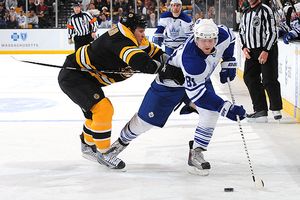 Brian Babineau/NHLI/Getty Images
Phil Kessel didn't muster much offense -- just two shots on goal -- against his former team Thursday.
"Well, some guys know him here and I think he played a lot against (Zdeno Chara), so it was a tough night for him again and that's what we've got to do, take away their best players," said Bruins center David Krejci.
Like Nic Cage as "Ghost Rider" and Guns N' Roses' "Chinese Democracy" album, reality didn't live up to the hype for either "Kessel-mania I" or "Kessel-mania II" -- as NESN dubbed the two games. Boston showed its veteran savvy by not getting distracted by No. 81 in blue and white and just playing their game. For much of the game Thursday night, Boston kept pucks deep, made Toronto play in its own end and rode Tuukka Rask's lights-out goaltending to victory.
"I think our guys have handled that well with the 'Kessel-mania' and everything that is being thrown out there," coach Claude Julien said. "I thought that we did a good job of not letting that stuff get to us. We just focused on the games. Having said that, [Kessel] is a pure goal-scorer. If you give him room and space, he is going to score some goals. Our guys know him well and reacted well and did a good job against him."
For all the talk about him being able to play his game now that he's free of the Bruins' system, Kessel made the Bruins' decision to trade him look like an addition-by-subtraction situation.
That's not to say that Kessel isn't a lethal offensive player. His 10-6--16 totals in 19 games prove that. Nor does it mean that the Bruins have enough offense without him to skate off with the Stanley Cup. It becomes more and more obvious week by week that when the March trade deadline arrives, general manager Peter Chiarelli's main target is going to have to be a scoring winger.
But Kessel's quiet performances against his former team prove that the Bruins are still one of the top two or three defensive teams in the league, a fact that makes them a postseason threat. With their win Thursday and Buffalo idle, the Bruins moved back into first place in the Northeast Division.
Kessel's showing also proves that sometimes conformity can benefit a team and a player. If Kessel was able to score 36 goals in just 70 games in Julien's "rigid" system last season, there's no telling how many he could have scored in a full 82 (although he wouldn't have played that many this season because of offseason shoulder surgery). But how many goals is he really going to score with Toronto coach Ron Wilson letting him do what he wants? Will he score 60, 70? Not likely in a league where 50-goal scorers are a rarity. Even if he erupted for a historic amount of goals, it would take a miraculous run for the last-place Leafs to get a sniff at the playoffs.
The grass is always greener. But the Bruins can go out and make a move or two to replace Kessel's offense if their present roster doesn't pick up the slack. Kessel can't go out and hire a new supporting cast. That's something he'll have to live with.
Loose pucks
Mark Stuart's goal snapped a 22-game pointless streak for the Bruins' blueliner & Byron Bitz missed the game with illness. He left the morning skate early and never made it back to the rink. Daniel Paille filled in for Bitz on the first line, with natural defenseman replacing Paille on a line with Steve Begin and Shawn Thornton. Hunwick played a handful of games up front last year as well & Dennis Wideman logged 23:35 of ice time -- a team-high -- despite not practicing all week because of a lower-body injury.