WILMINGTON, Mass. -- Boston Bruins defenseman Zdeno Chara admitted to ESPNBoston.com on Wednesday that when he went to his photo shoot for ESPN The Magazine's The Body Issue, he didn't know they were going to ask for the "Full Monty."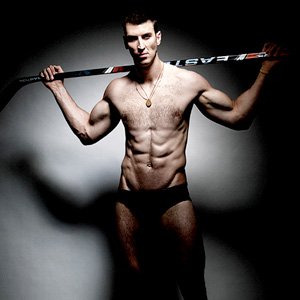 Benn Watts for ESPN THE MAGAZINE
Bruins defenseman Zdeno Chara bared it all for ESPN The Magazine.
But as a man who never backs down from a challenge -- whether he's squaring off against Georges Laraque or signing a multiyear, multimillion-dollar contract to change the fortunes of an Original Six franchise -- Chara made the decision to do as he was asked.
"I think that it all matters how comfortable you are and how those people that are taking the shot make it comfortable for you," Chara said. "In my case, it was very professional, and they made sure that I didn't have any [reasons] to feel uncomfortable. It was basically two people in the room, and we didn't do any shots that were showing anything. Everything was sideways or covered."
Chara, a fan of many sports, said he was honored to be part of the photo spread, which included other stars such as tennis standout Serena Williams and NBA All-Star Dwight Howard.
"It's totally fine by me. It's a sports magazine," he said. "I was happy to be available and that they chose me, and I was pretty happy that I could be in that group of people that were selected."