WILMINGTON, Mass. -- Other than goaltender Tim Thomas, no one on the Boston Bruins had a better view of Scott Walker's game-winning overtime goal in Game 7 of last spring's Eastern Conference semifinal series with Carolina than Patrice Bergeron and Dennis Wideman.
One would figure that watching replays of Walker batting the rebound of Ray Whitney's shot into the back of the net to end Boston's season would be a painful experience, but Bergeron found it was impossible to avoid. In the days after the game, the goal was shown over and over on the local news.
[+] Enlarge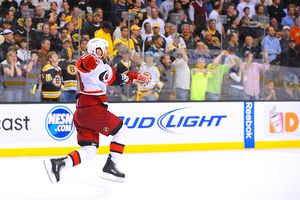 Brian Babineau/NHLI via Getty Images
Carolina's Scott Walker celebrates after ending Game 7 of last season's Eastern Conference semifinals -- and the Bruins' season.
Bergeron, known for his courage, didn't wear out his remote control trying to avoid the pain.
"I was watching it, and it was tough," Bergeron told ESPNBoston.com after Friday's practice at Ristuccia Arena. The teams reunite Saturday night at TD Garden.
The agonizing memory is enough for Wideman without ever watching the replay.
"You think about it for a while," he said, "but I wasn't sitting at home on my couch haunted. Obviously it was upsetting. But there's always going to be a time, unless you win the Cup, you're going to lose every year. Guys play 20 years without winning [the Cup].
"Obviously to get the chance to play them again right away after the first game of the season, it's kind of nice."
Although Saturday night's contest is just Game 2 out of 82, it obviously has more meaning, particularly for the fans, because of the way last season ended. Walker, who many thought should have been suspended (rather than just fined) after he laid out Boston's Aaron Ward with a punch late in Game 5 of the playoff series, sent the Bruins home a lot earlier than the top-seeded team in the Eastern Conference expected. Not that Boston should need any extra motivation after its lackluster loss to Washington in Thursday's season opener.
"If anything, we can feed off the fact that they're the ones that knocked us out," said Shawn Thornton."So, we should have a little bit of a burr coming into this. It wasn't that long ago, that's for sure. I sat here all summer and heard about it. It's tough to forget."
Thornton was vocal in his displeasure over Walker's punch last season and even hinted during the playoff series that retribution might come this year. But now that Ward and Walker are teammates with Carolina, it makes little sense for Thornton to dole out any punishment. For obvious reasons (fines and suspensions, if you're not familiar with how the NHL operates), Thornton declined to comment on the situation with Walker. But the Garden crowd surely wouldn't mind some fireworks.
"There's always that sense that this is the team that pushed us out," said coach Claude Julien."At the same time, we have to look a little further and look at ourselves better and what we need to do to win hockey games more than the revenge. It's got to be a little bit of both, but the focus should always be on your team."
Julien said that he hasn't watched Game 7 in its entirety but has looked at that final play. While it was the type of goal that no amount of coaching or better defensive positioning could've prevented, Julien thinks his players can learn from it.
"It's more of making guys realize that any time you put a puck on the net, anything can happen," said Julien. "But you've got to get net drive. We keep telling guys, this is not about trying to be pretty here. It's about doing it and doing it right and putting pucks on the net and outworking, outhustling. This is how they scored that winning goal, they threw it at the net and a guy driving the net, out of the air, pushes it in."