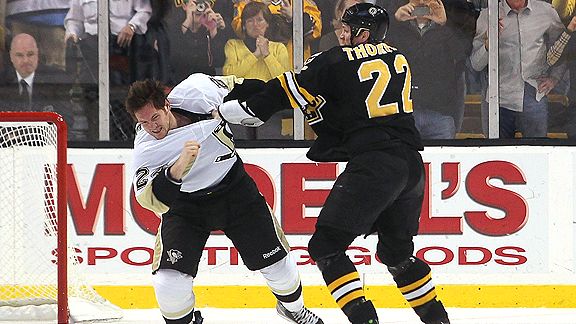 Bruce Bennett/Getty Images
Shawn Thornton wasted little time in exacting revenge on Pittsburgh's Matt Cooke.BOSTON -- If you wrote a script before Thursday night's game about how the Bruins would exact revenge on Pittsburgh's Matt Cooke, you might have written in at least a Boston goal or two and a little more effort put forth by the boys in black and gold.
But one thing that would have been dead-on was the player who doled out Cooke's punishment, because no one but Shawn Thornton could have been expected to make sure the message was sent that Cooke's cheap shot at Marc Savard (and the subsequent lack of a suspension from the NHL) were unacceptable.
Thornton strictly adheres to The Code and has carved out his niche in the NHL as a guy who is always willing to drop the gloves and sacrifice everything for his teammates. It was a perfect coincidence (or was it?) that Thornton was on the ice when Cooke took his first shift. The Penguins forward wasn't on the ice for more than four seconds when the gloves were dropped and fists were lifted at the 1:58 mark of the first period.
"I take pride in sticking up for my teammates at all times," Thornton said after the Bruins' 3-0 loss. "As far as that goes, there were other guys in here that were more than willing and were actually telling me afterward that they would've been happy to step up too. But I take full responsibility. I don't expect anyone else to do it."
Thornton said he didn't plan to go after Cooke, but he has to say that to avoid supplemental punishment. He obviously wanted to make sure the message was delivered, and it was delivered early. Cooke had a feeling it wouldn't take long for him to have to answer the bell.
"As soon as I went on the ice, I got booed," Cooke said with a laugh. "I think that was Shawn's notice that I was on the ice from the fans. He came over and challenged me and I obliged."
Of course, the Bruins probably should have gotten more of an emotional lift from Thornton's selfless act. But instead they reverted to their offensively challenged selves. One thing the fight did accomplish, however, was raise Cooke's respect level a bit in Thornton's eyes. The cheap shot on Savard was just the most recent of Cooke's questionable physical plays and his glaring lack of fighting majors has earned him a reputation as a punk rather than an enforcer.
"I'm still not happy with the way he plays some games. But I guess, I was surprised a little bit," Thornton said of Cooke's willingness to engage in combat. "You'd have to ask them, but I think some of their older guys may have helped in that."
Thornton might have violated The Code a tad when he kept swinging at Cooke after the linesmen intervened. Under NHL Rule 47.5, Thornton was assessed a 10-minute misconduct. When asked if it was worth the extra penalty, Thornton replied, "We weren't short a man."
Thornton said as soon as the fight was over, the Cooke-Savard incident was over. And his teammates obviously agreed. They knew as well as anyone that if action had to be taken, Thornton would be the one to take it.