WILMINGTON, Mass. -- What started out as a way for Bruins head coach Claude Julien to work Derek Morris back into the lineup after a three-game injury absence has turned into a permanent defense pairing with Matt Hunwick that has allowed the Bruins to sport three balanced duos.
"It was one of those things where we thought 'let's ease him in.' And at the same time, it gave Matt an experienced defenseman to play with," said Julien, as his players worked out at Ristuccia Arena on Wednesday. "We thought it was a win-win situation. Dennis [Wideman] had played well with Zdeno [Chara], and even Johnny Boychuk and Andrew [Ference] have played well together. So we kind of liked our pairs, I guess, the way we had them and it turned out well.
[+] Enlarge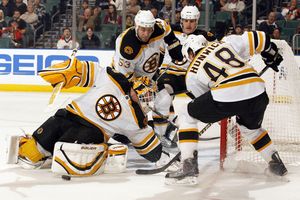 Eliot J. Schechter/NHLI/Getty Images
Derek Morris and Matt Hunwick help goaltender Tim Thomas defend the net during a recent game against the Florida Panthers.
"Right now, I think Matt's game has really taken off," said Julien. "It's good to see because we know he's a good defenseman. He's one of those guys that we rely on a lot to support the attack because he's such a good skater. And getting his confidence and knowing that he's got a guy back there that's pretty reliable has certainly helped."
Hunwick has come alive, with a two-point night (including a shorthanded goal) in New York Monday and three points in the six games he has skated with Morris. And while plus/minus is never a dead-on gauge of a player's performance in the defensive end, Hunwick is a plus-2 over that same stretch. He's come a long way less than a month removed from being a healthy scratch for three of four games when Boychuk was getting his first opportunities to play.
"I feel a lot better. I feel a lot more comfortable out there with Derek," said Hunwick, who is a minus-3 with 5-6-11 totals in 39 games this season. "He's a guy that can really move a puck up the ice and allows me to get up the ice and support the rush and be that fourth guy, or even that third guy at times. His puck-moving ability, maybe coupled with my skating, has been good for me and I think it's been good for him too."
Except for the three games he missed, Morris has been a legit No. 2 defenseman for the Bruins. It was getting obvious that having Morris paired with Chara, the Bruins' top two scoring defensemen, was kind of like putting all your eggs in one basket. Morris' injury might've caused the lineup shift, but now Morris, the 31-year-old veteran, gets to aid his partner rather than just be a sidekick to the Norris Trophy winner.
"I like playing with younger guys," said Morris. "My whole career I've played with younger guys. I like it when they do well. I'm not the type of guy that really cares about my own stats. I like what he's doing. He's skating with the puck, he's using his speed and he's getting up in the play. And he's getting his confidence back."
"It was confidence," continued Morris when asked about why Hunwick had been struggling. "We're supposedly confident guys, but it's easy to lose it in this game. He was losing it a little bit. All I've ever done is just tell him to do what he can do, go join the play, I'll stay back. He's got such good speed and is so good offensively. He wasn't using that. He's been doing that; he's been playing good. And it's good because he has a bright future and he's going to be a huge part of this team."