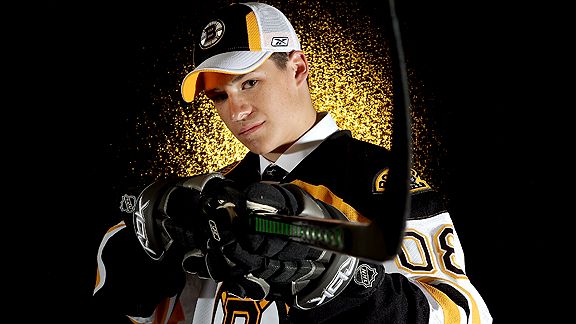 Andre Ringuette/Getty Images
Joe Colborne was one of three Bruins top prospects who made their pro debuts Friday.PROVIDENCE, R.I. -- The future of the Boston Bruins was on display Friday night and it looks really good.
Prospects Joe Colborne, Maxime Sauve and Steven Kampfer all made their professional debuts with Boston's AHL affiliate, the Providence Bruins, and all contributed in a 3-1 victory over the Worcester Sharks at the Dunkin' Donuts Center.
Sauve scored two goals and Colborne assisted on both, while Kampfer was solid defensively and played like a seasoned veteran.
Bruins assistant general manager Don Sweeney attended the game and was very pleased with what he saw from the organization's top prospects, who all signed contracts this week. Colborne and Kampfer just concluded their collegiate careers, while Sauve finished his junior career.
"We're not getting ahead of ourselves; it's one game," said Sweeney. "As I've always believed, because maybe I did it so many years ago, you come out of school and you get that leg up, getting an opportunity to play at this level and understanding what it takes to turn pro. I just think it accelerates the learning curve all the way around. These guys will hopefully down the line, if they make it to the NHL, will appreciate this and look back on it and know it was a really good opportunity."
If Friday's performance is any indication of what's to come, it's a safe bet all will play in the NHL sooner rather than later.
Even though there's been a lot of attention paid to Colborne, the Bruins' first-round pick (16th overall) in the 2008 NHL draft, Kampfer stood out on Friday. The 21-year-old defenseman, a University of Michigan standout, was fundamentally sound on the ice. He moved the puck very well and played a physical game. In the third period, he broke up a 2-on-1 in his own zone and the P-Bruins transitioned quickly and scored their third goal of the game.
"Out of the three guys, he looked awful comfortable," said Sweeney. "Being a former defenseman, that got me a little more excited than anything to realize this kid has an edge to his game and a good feel for the game. He has a lot of good things built in already."
Providence coach Rob Murray put Kampfer in all situations and he responded very well.
"I'd have to say the first couple of shifts I was really nervous," said Kampfer. "Playing with Jeff [Penner] settled me down a little bit. The talk on the bench, the guys were great. I just tried to play simple, get the pucks out and get the pucks in."
He was expecting a different game than he'd been used to in college, but he was a bit surprised by the speed and physical play.
"I think the guys are a lot stronger than in college," he said. "That was something I noticed. You go into the corners and I'm used to pushing the guy off the puck, but these guys are big men and going into the corner, you have to be a lot stronger. That's something I've got to work on."
Sauve made his presence felt too. At a time when both the Bruins and P-Bruins are having trouble scoring goals, the 20-year-old quickly lit the lamp with a pair of goals.
"Our team down here, like Boston, hasn't scored a heck of a lot of goals and Max comes in and scores two in his first game," said Sweeney. "I told him it's not going to be that easy going forward, but it's just good to see."
Sauve arrived in Providence this week from the Quebec Major Junior Hockey League, where he recorded 13 goals and 22 assists in 25 games for Val d'Or.
"I feel very excited to play here and win," said Sauve. "That's the goal. I was a little bit nervous, but that's the game."
Sauve and Colborne played on the same line and clicked as if they'd been linemates longer than just one game. The two were roommates during Bruins training camp last September and they're living together in Providence.
"He's deserves all the press he's getting right now," said Colborne. "He's a such a good player and he made me look really good out there. I was just feeding him passes and he was doing the rest."
Colborne, 20, signed with Boston earlier this week after playing two seasons at the University of Denver. He's big and strong (6-foot-5, 215 pounds) and was winning races to the puck and using his body.
"It was definitely a learning experience and it was great to get the win," he said. "It was great getting that first point pretty quick and it took a lot of the pressure off.
"I had quite a bit of nerves in the warmup, but once you get the first check in, you get into the game and you just go back to what I've been doing my whole life. It was everything I thought it would be and getting the win made it that much nicer."
A natural center, Colborne played the wing for the majority of this past season for Denver after suffering a broken finger in November. The Bruins want him back in the middle and that's where he played Friday night. He looked really good.
"It felt great," he said. "I hadn't been there for a while and I was a little rusty on my faceoffs. It felt good, it felt natural."
Colborne's parents made it to the game just in time for the opening drop and when Colborne checked his cell phone after the game, they had sent him a congratulatory text message.
"It was pretty special to have them come all the way across the continent to see me. My sister drove in from Yale too, so she got to see it, which is special too. I can't thank them enough for what they've done for me my whole life. For them to show the support was pretty nice."
The Bruins have created organizational depth with the players they have drafted the last few years, and will continue to do so. The results were on display here on Friday and based on the early returns, Boston should be excited about the future.
"They actually looked very good," said Murray.