BOSTON -- Rajon Rondo had nothing to say about New Orleans' Chris Paul in the locker room after the Celtics' win on Sunday. He and Paul both had said plenty out on the court.
The two point guards drew matching technical fouls in the first half and had to be restrained from each other following the final whistle.
[+] Enlarge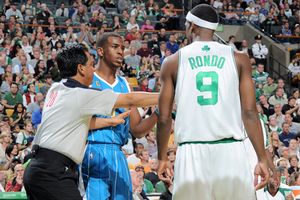 Brian Babineau/NBAE/Getty Images
A referee had to get in between young point guards Chris Paul and Rajon Rondo when things got heated Sunday night.
Paul remained out on the court even after Rondo had been dragged back to the Celtics' locker room, and the incident quickly died down from there. While Rondo didn't say anything about the scene, both Paul and Rondo's Celtics teammates downplayed it.
"Rondo is such a competitive player," Paul Pierce said. "You also know that Chris Paul is so competitive. Those guys, they compete. Every time they match up with one another, they expect each guy to go at one another."
Rondo had the upper hand on Paul early, finishing the first half with seven points and six assists to his rival's five points and three assists. Even more important, Rondo's Celtics went into the locker room with a nine-point lead.
But Paul took over in the third quarter, scoring 14 points in the first 12 minutes of the second half as the Hornets stormed back into the game. He finished with 22 points and eight assists.
"You like to see that," said Hornets guard James Posey, who played with Rondo in Boston two seasons ago. "It's not bad at all. That's all it is: It's two competitive guys butting heads."
Said Celtics center Kendrick Perkins, "Sometimes you get into a little noise, talking, but it ain't nothing serious, I don't think. It's nothing personal. They just like going at it. ... It started from the first time they got the double tech and kept going, but that's expected. They're both talented guards that are young in this league and proving something, and when you get a good matchup like that, they're going to go at it."
But what about how upset the Hornets' point guard looked?
"I just have that expression on my face sometimes," Paul said. "I'm a funny guy like that."