BOSTON -- A collection of postgame news and notes after the Boston Celtics rallied to defeat the Washington Wizards, 86-83, Sunday night at the TD Garden:
The rundown (a quick look at the postgame headlines)
* Allen carries Celtics with second-half effort, late 3's
* Flip side: Saunders says his young team choked against Boston
* Finley won't be rushed into action
* Landry's NBA future likely decided with Red Claws
* Postgame videos: KG, Pierce and Doc break down the win
---
Allen carries Celtics with second-half effort
Before Sunday's game, Celtics coach Doc Rivers stressed to his team that Ray Allen had the potential for a big night. It took the better part of three quarters to get him going, but, sure enough, Allen produced timely shots for the Celtics.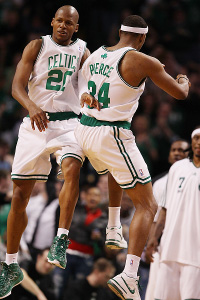 Elsa / Getty Images
Ray Allen celebrates with Paul Pierce after his 3-pointer with 17 seconds to play put the Celtics on top for good.Allen scored 18 of his game-high 25 points after intermission, hitting 4-of-6 shots for 10 of Boston's 24 third-quarter points, then connecting on 3-of-4 shots, including a pair of monster 3-pointers in the final two minutes, to rally Boston from a 13-point deficit.
"A huge weapon," Garnett said when asked about Allen's scoring potential. "You know him and [Paul Pierce] can put up a lot of points in a hurry. That's big. We have to get them open. You know our job is to get them open. I thought that once he got into a nice, little rhythm, I think that everyone else fed off of that a little bit. When it was time to really get him opened for the three, we got him open, and he hit a big shot."
Allen credited his big men for springing him free late in the game.
"The bigs, Kevin and [Kendrick Perkins] set great screens, and I came off," Allen said describing his winning 3-pointer. "I think I had more time, but that's one thing about shooting the ball, I don't like sitting there on the 3-point line. Once I come off, it's like the ball comes and I'm up in the air with it."
Allen splashed that 3-pointer giving Boston an 85-83 lead with 17.1 seconds to play. It was exactly the type of play Rivers envisioned before the game.
"[Allen] missed wide-open shots early," said Rivers. "And before the game, because they play so big with Mike Miller and [Al] Thornton, you know, Ray Allen -– for those two guys to chase him, that's a difficult task. And we told our guys before the game, 'Ray's going to get a ton of open looks tonight.' And I didn't think we did a good job of getting him open, quite honestly, in the first half. In the second half, I thought we did a much better job of it."
Allen remained steadfast in suggesting that all the chatter surrounding him before the NBA trade deadline didn't affect his game, but it's getting harder to dispute given his solid play since the deadline passed. Still, Garnett defended Allen's early-season play.
"I can just say that each player has their time where they play up and down," said Garnett. "That is the nature of the season. You guys don't know, but he deals with a lot of different things with injuries. You know we all deal with different types of physical stuff. He is no different than that. At the same time, he had talks of business, about where he was going to be in his future and stuff. I can just tell that he is a lot more healthier. Everything that he is doing is a lot more fluid. He is not thinking a lot, he is just reacting, and it's beautiful basketball."
---
Flip side: Saunders says his young team choked
Wizards coach Flip Saunders didn't mince words when chastising his team for allowing Boston to rally.
"Well, we choked," said Saunders. "Six minutes to go, we're up 13. We've got young guys, they don't know what it's like to be in a situation. We start talking to Garnett, started talking trash and everything else -- got Garnett and those guys juiced up and we just [urinated] down our leg the last six minutes.
"You have a veteran team that knows how to close out games against a young team that hasn't been there and instead of just letting a sleeping dog lie, we juiced up their energies. We had plays coming off timeouts and we had guys going to the wrong side of the floor. We were so discombobulated."
Saunders wasn't done.
"For 42 minutes, we dominated the game," he said. "We got beat in the last six minutes of the game and we got beat because we beat ourselves by getting them energized, which got their crowd energized. We did not make one play down the stretch.
"Bad decisions, Randy [Foye] and everybody, bad decisions. [Andray Blatche] had terrible decisions, 'Dray is wolfing the whole time to Kevin Garnett. You can't do those things. It's a learning process. When you're coming up and establishing yourself, he had 23 points with six minutes to go, and couldn't hardly get a shot off the last six minutes. You don't take a guy who's been defensive player of the year three times, probably the best power forward, and all of a sudden get that guy juiced up to play against you. You've got no chance."
---
Finley won't be rushed into action
Michael Finley joined the Celtics for Sunday's tilt with the Wizards, but spent the game inactive with limited time to get comfortable in Boston's system.
Rivers said he didn't have a timetable for Finley's activation, but said the team wouldn't rush him in with 12 other healthy bodies on the roster, including fellow guard Tony Allen, who returned from a hip injury that sidelined him for Friday's game in Philadelphia.
"I don't know [when Finley will play], I really don't," said Rivers. "He may play in the Milwaukee game [Tuesday]. We'll wait and see how comfortable he is, how quickly he can do it. It might be the worst month ever [to join midseason], because there's no practice days, we play just about every day. We're just going to figure this one out on the fly."
For more on Finley, hop HERE.
---
Landry's NBA future likely decided with Red Claws
Rivers noted that Marcus Landry's future in Boston might ultimately be decided by how he performs during a stint with the Maine Red Claws of the NBA Development League.
Landry, a rookie forward acquired in the five-player swap with the New York Knicks that brought Nate Robinson to Boston at the trade deadline, was assigned to Maine on Saturday so that Celtics president of basketball operations Danny Ainge could evaluate him on the court.
"Danny called me because Marcus hasn't played and he needs to get a look at him playing in order to make a decision in the summertime," said Rivers. "That's basically what went into it. Bringing Michael [Finley] in now, Marcus's minutes -- he wasn't getting any here -- this way Danny gets a free look at him. At least he gets to see him play against NBA players and that will allow him to make a pretty good decision."
Landry came off the bench Sunday to scored eight points on 3-of-5 shooting with a rebound, an assist, a steal and two turnovers in 13:28 as Maine fell to the visiting Sioux Fall Skyforce, 99-98.
Landry has appeared in 18 NBA games this season with the Knicks and Celtics, averaging 2.4 points and 1.1 rebounds per game. He's logged just one game with Boston, playing three minutes (missing both shots he took) against Cleveland last month.
---
Postgame videos: KG, Pierce and Doc on win over Wiz
Pierce and Garnett offer their takes on Boston's win over the Wizards.
Rivers liked that his team found a way to win a game it wouldn't have won earlier this year.