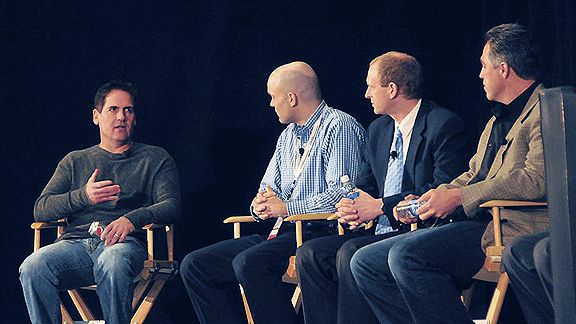 John Marcus
Left to right: Mark Cuban, John Hollinger, Dean Oliver and Kevin Pritchard talking basketball analytics.ESPN.com's John Hollinger participated in a panel discussion about the next step in NBA stat tracking during the Sloan sports analytics conference this past weekend and provides insight

in a column today, weaving in a bit on the Celtics' win over the Wizards Sunday night:
It was a big weekend here in Beantown, where some of the biggest minds in the business gathered at the Sloan Sports Analytics Conference to discuss some of the exciting new research people are doing to further our understanding of the game ... and then the next night the Celtics failed to give a foul when up by three points in the final seconds against a player calmly dribbling in his own end of the court.

Yes, it does sometimes seem we're beating our heads against a wall, but in the big picture we're making progress. Sure, the Celtics unnecessarily gave Washington a free look at a game-tying shot, but the coaching staff freely admitted this was a mistake afterward. And the gaffe came about largely by not communicating quickly enough in a rare late-game situation when a timeout wasn't used.

Some teams still won't foul in this situation, but a consensus is steadily evolving that it's the right play when up three and less than five or six seconds remain, especially against an opponent that's out of timeouts. Analytics has played a big role in that.

You could also see the increased role in analytics around the NBA just by all the familiar faces in the crowd at the Sloan conference -- roughly half the teams sent representatives, and high-ranking ones at that. With more than 1,000 people attending, packed panels and a full day's slate of events, by any reasonable measure this was an enormous success. It's hard to believe that just three years ago we did the same thing in a half-full MIT classroom while sitting at those little old-school desks with a slot for the pencil.
Click HERE

to read the full story. For a more general overview of the stats summit, hop HERE for ESPN Boston's take on the event.