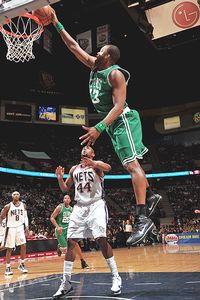 Jesse D. Garrabrant/NBAE/Getty Images
Is Shelden Williams most likely to be deactivated when the Celtics have 13 healthy bodies?Celtics coach Doc Rivers indicated that Michael Finley is expected to be active Tuesday night against the Bucks, according to multiple reports (1,2) from the team's shootaround this morning in Milwaukee.
Finley's activation begs the question: Who's the odd man out? One of the very few upsides to all the injuries the Celtics have faced this season is that Rivers and his staff have rarely had to make a tough decision about who sits. And even when they did have extra healthy bodies, it always seemed to be the youngest players -- Lester Hudson, J.R. Giddens and/or Bill Walker -- who ended up in a suit at the end of the bench.
No one from that youthful trio remains and the team's only real youngster -- rookie Marcus Landry -- is on assignment in Maine. That leaves 13 healthy bodies (or as healthy as you're going to get 61 games into an NBA season) and 12 active roster spots.
So who gets deactivated over the next 21 games and into the postseason? It's likely -- especially with the Celtics' track record this season -- that an injury or two will crop up along the way, but until then, someone's going to take the fall.
One option, for Tuesday night at least, might be to deactivate Tony Allen (right hip). After missing last Friday's game against the Philadelphia 76ers, Allen logged just two minutes against the Wizards Sunday. Rivers noted there was "no conspiracy," but, by his own admission, Allen is not 100 percent after taking a tumble against the Bobcats last week.
Looking longer term, it will be interesting to see if seldom-used Shelden Williams ends up as the fall guy, or if he rotates with Brian Scalabrine based on matchups. Who's your choice? Vote in our poll below.
Who should be deactivated when the Celtics have 13 healthy bodies?poll