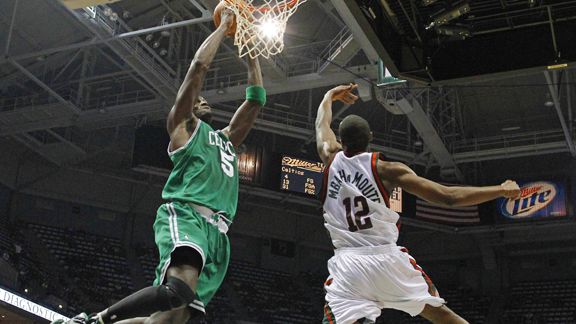 AP Photo / Jeffrey Phelps
Kevin Garnett couldn't carry the Celtics past Milwaukee.A collection of postgame news and notes after the Milwaukee Bucks topped the Boston Celtics, 86-84, Tuesday night at the Bradley Center:
Pierce loved the final look: Paul Pierce took Boston's final shot and rimmed out a fadeaway that could have forced overtime. Said Pierce: "I loved the shot. I thought I got to my spot. Sometimes they fall and sometimes they don't. That's the way the ball bounces sometimes. We gave away some possessions there in the fourth quarter. We gave them a couple of layups and we let them get an eight-point lead late and then we had to grind. So we have to do a better job, especially in fourth quarters, of knuckling down."
Baby and Jennings in "skirmish": Glen Davis and Brandon Jennings were assessed matching technical fouls after a brief dust-up following a hard foul by Davis as Jennings attempted to produce a breakaway layup in the fourth quarter. The Bucks embarked on an 18-9 run, highlighted by a 14-2 spurt, after the encounter that saw Davis bump Jennings, who was standing over Davis after the play. Said Jennings; "I just stood over him, let him know, 'I'm all right.'" Celtics coach Doc Rivers said, "I don't think the foul was hard enough for a reaction. Honestly, I don't think Jennings did enough for Baby to react. It's just two young guys acting up, but no big deal."
Finley's debut: Veteran swingman Michael Finley made his Boston debut Tuesday, logging eight minutes and hitting his first two shots in a Celtics uniform. Finley matched his point (five) and field goal (two) totals for the month of January (seven games with San Antonio) by hitting his first two shots -- a pair of long-distance jumpers from the left wing in the second quarter -- but only appeared for two fourth-quarter minutes in the second half.
Finley in, Scalabrine out: The activation of Finley forced Rivers to deactivate a healthy body and Brian Scalabrine took that bullet against the Bucks. Rivers indicated it could ultimately be a rotation of players sitting out with Shelden Williams active Tuesday, likely in case the team needed rebounding depth.
TA dresses, does not play: Celtics guard Tony Allen suited up, but did not appear in Tuesday's loss. Allen is still nursing a right hip injury sustained in last week's win over the Bobcats. The injury forced him to miss Friday's game against the 76ers and he logged just two minutes versus the Wizards Sunday.
After off night, bench great again: Before Sunday's game against the Wizards, Rivers heaped praise on the play of his bench. He must have jinxed them, as the group summarily produced one of its worst efforts of the second half of the season. Boston's six-man collection of Marquis Daniels, Rasheed Wallace, Davis, Scalabrine, Allen and Nate Robinson combined to connect on 3-of-21 shots overall, a horrid 14.3 percent Sunday. The unit rebounded Tuesday, combining to go 11-of-20 (4-of-7 from 3-point land) for 29 points with a cumulative plus/minus of plus-18.
Can't go home: Ray Allen spent his first five-plus seasons in the NBA with Milwaukee, but it wasn't a particularly noteworthy return Tuesday night. Allen labored while missing all three shots he took and scoring three points over 34 minutes. Allen did add four rebounds, three assists and a steal, but never got his shot going despite some solid outings recently.