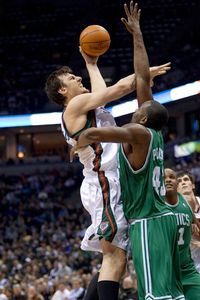 Jeff Hanisch / US Presswire
With Andrew Bogut playing like a No. 1 pick, a playoff series with the Bucks would be no picnic.If the NBA season ended today, the Boston Celtics would (barely) hold the third seed in the Eastern Conference. It's a spot they'd be well served to be holding when the season actually ends in a little more than a month.
The Milwaukee Bucks -- the team that stood nose-to-nose with Boston Tuesday night in Milwaukee and emerged with a gritty victory -- have surged to the fifth seed in the East and would be in line to meet the fourth seed in the opening round of the playoffs.
That's a spot where the Celtics could very easily find themselves sitting when the 2009-10 season ends on April 14. While Boston currently holds a one-game edge in the loss column over the Atlanta Hawks (having played one fewer game), Atlanta holds the tie-breaker after sweeping Boston during the regular season.
The path to the NBA Finals for the fourth seed is likely to look like this: Bucks in Round 1, Cleveland Cavaliers in Round 2, Hawks or Orlando Magic in the Eastern Conference finals.
While the Celtics will tell you that it doesn't matter whom they see in the postseason or when, it goes without saying that the above scenario is hardly an ideal road map to postseason success.
Boston is a combined 3-9 against those four potential opponents, including a cringe-worthy 1-5 at home.
Imagine a seven-game, first-round series with the Bucks, where every game drips with the intensity that Tuesday's contest featured. Ponder the mental and physical toll that could take on a team that would then have to turn around and play LeBron James and the Cavaliers.
Click HERE to read the full story.