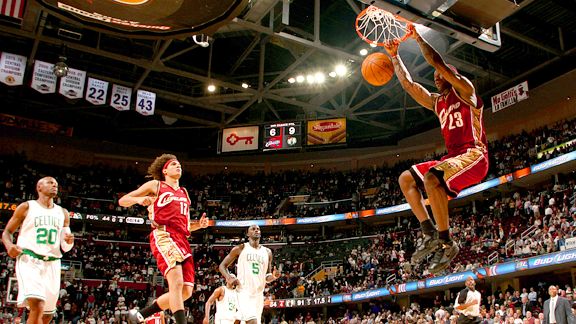 David Liam Kyle / NBAE via Getty Images)
The Celtics haven't had many wins over quality teams since a triumph here on opening night.CLEVELAND -- Celtics coach Doc Rivers doesn't buy the hype surrounding Sunday's showdown with the Cavaliers. Regardless of how his team plays, or the outcome of the game, Rivers doesn't believe it affects the Celtics moving forward, so he left his troops with a simple bit of advice after Saturday's practice.
"Just play [the game]," said Rivers. "That doesn't mean we'll win -- I think we'll win, I really do, and I think we'll come in and play terrific -- but we just gotta play hard.
"Listen, it's a big game for them, too. It's not just one way. I always laugh when I hear guys say it's a 'must-win.' Well, what if it's a must-win for both teams? Someone's not going to win. It'll be great. Our team is looking forward to it. [The Cavaliers] are looking forward to it. It's no coincidence that LeBron [James] rested two games and came back. That's not a coincidence."
Asked if dubbing it a "must-play-well" was more appropriate, Rivers still barked at the notion.
"And what if we don't [play well]? Should we quit and go home?" asked Rivers. "You just show up. And you work on it, and, if you win and play well, great. Here's my question for you: What if it's a 'must-play-well,' and we play well and win? Should we stop playing then, too?
"It's a long season, guys, and it's a game-to-game thing. Today, we had this talk, guys were chattering too much. I reminded them, 'Guys, we played well for one game. What the hell? It doesn't matter. You gotta keep doing it. It's gotta become a habit.' And I don't think it's become a habit for us yet. That's what is has to become."
Michael Finley may be new in town, but he's aware of the the rivalry.
"I expect a playoff-type atmosphere, with two championship-caliber teams trying to establish themselves in the regular season," said Finley. "I've watched these two teams battle on TV in the regular season and the playoffs. It's always a competitive battle and I don't think that will be different come [Sunday]."