To diagnose his recent struggles, Marquis Daniels sat down with Boston Celtics assistant coach Armond Hill before Monday's game against the Detroit Pistons and watched highlights from his performance in Sunday's loss to the Cleveland Cavaliers.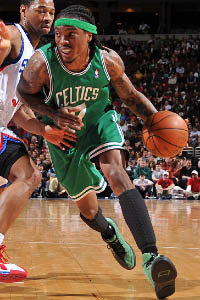 Greg M. Cooper / US Presswire
The Celtics need Marquis Daniels' energy every night off the bench.Trouble was there were no highlights, which highlighted the problem with Daniels' recent play.
Marred in a month-long slump, Daniels' struggles reached a nadir with 12 scoreless minutes against Cleveland in which he missed all three shots he took and barely registered on the stat sheet (1 rebound, 1 turnover, 3 fouls, 0 assists, 0 steals, 0 blocks).
What's more, before Daniels' lone rebound in that game, he had hauled in just one board in the previous five games -- a mind-numbing span of 93 minutes of court time with a single rebound.
Not since Mark Blount was in town had Boston's bench seen such rebounding futility.
Including the Cavs game, Daniels registered a total of 17 points and two assists in the six-game span. For the month of March, Daniels is averaging just 4.3 points, 1.3 rebounds and 1.2 assists, down from his season totals of 6.3 points, 2.1 rebounds and 1.6 assists.
Before Monday's game, coach Doc Rivers suggested the solution to what ails Daniels was simple: He had to play harder.
Daniels responded by producing 11 points on 5-of-7 shooting with five rebounds and four assists in 30 minutes against Detroit.
Not only did Daniels help spearhead some solid play by the bench, he kept the starters in rhythm with Paul Pierce on the bench by early foul trouble.
"Marquis was great," Rivers said after the game. "That's the energy ... we need from him every night. And you can see that."
Click HERE to read the full story.