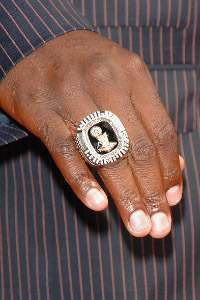 Stephen Shugerman / Getty Images
Whose championship ring is this? It's a former Celtic.Only two active players have won both an NBA and NCAA title, according to ESPN Stats and Information: Detroit's Richard Hamilton (UConn) and San Antonio's Nazr Mohammed (Kentucky).
For the NBA's entire history, there have been 34 total players to win both crowns, including a handful of Celtics. The one that jumped out to us? His NBA championship ring is pictured at right. It's Antoine Walker, who won titles with Kentucky and the Miami Heat. Check out the full list of dual champs below, topped by a few notable Celtics:
Bill Russell, John Havlicek, Bob Cousy, KC Jones, Bill Walton, Isiah Thomas, Kareem Abdul-Jabbar, Magic Johnson, James Worthy, Lucius Allen, Ron Bonham, Tom Gola, Quinn Buckner, Gail Goodrich, Howie Dallmar, Cliff Hagan, Dick Farley, Arnie Ferrin, Rodney McCray, Glen Rice, Michael Jordan, Rick Robey, Clyde Lovellette, Herm Schaefer, Jerry Lucas, Larry Siegfried, Frank Ramsey, Tom Thacker, Milt Wagner, Jamaal Wilkes, Corliss Williamson, Hamilton, Mohammed, and Walker.
Speaking of Walker, check out this sneak peek at the upcoming Outside the Lines special about his gambling problem: