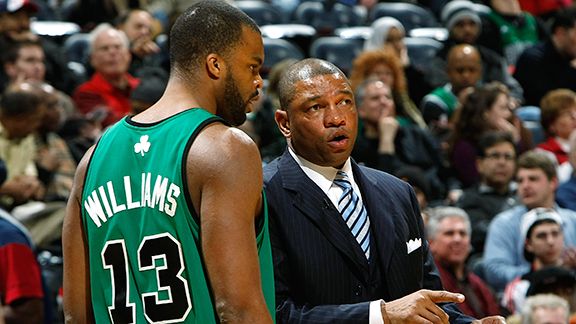 Kevin C. Cox/Getty Images
Shelden Williams has seen more action lately.Due in part to the struggles of players in front of him on the depth chart (cough, Rasheed Wallace) and his own gritty play when he's on the floor, Shelden Williams has forced Celtics coach Doc Rivers to consider more playing time for the fourth-year forward.
After enduring a stretch of 14 consecutive games where he did not get off the Boston bench and logging just seven total minutes in three appearances in February, Williams has appeared in seven of 10 games this month for Boston. For a player that was all but forgotten after Glen Davis returned from a thumb injury that sidelined him for the first 27 games of the regular season, it's a chance to give Boston some much-coveted help up front.

#13 PF
Boston Celtics
2010 STATS
GM

44

PPG3.7

RPG2.9

APG0.4

FG%.510

FT%

.759
"It's a need and he's showing me something," said Rivers, when asked if Williams is playing more due to need or ability. "He's been great all year. Once he stopped playing, he never stopped working. And we kinda alerted the other bigs, if you're not getting the job done, we'll go with Shelden. If he's not, we'll go back to you, but I think right now, with our team, it's a good place for all them to be in. I thought it was good a few years ago with Leon [Powe] and [Glen Davis]. I thought it brought a sense of urgency that, other guys want to play. That's a good thing for our team. We kinda fell into it, but it's great that Shelden is there and he wants your minutes."
Williams isn't lighting the world on fire, but he is averaging 4.3 points and 1.9 rebounds over 8 minutes per game in those seven appearances this month. Williams was an integral part of the team's success over the first 27 games of the season (Boston posted a 24-3 mark during that stretch) averaging 4.4 points and 3.4 rebounds in October. Since his return, Davis has been a high-energy presence off the bench whose production is on the rise lately, but Wallace's struggles has opened some additional time for Williams to prove himself again.
Earlier this season, Rivers went out of his way to praise both Williams and Brian Scalabrine, a pair of frontcourt players that haven't seen a lot of time, but have remained "consummate professionals" throughout the seasons, ready to step in whenever needed.