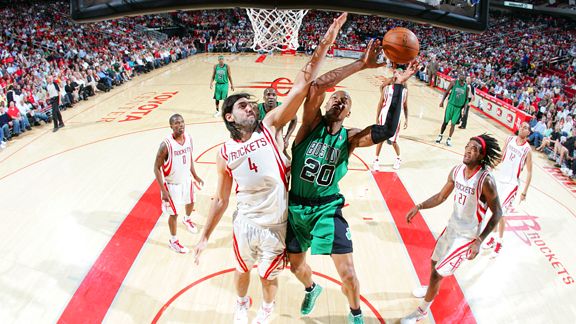 Brian Baptist/Getty Images
The Celtics have fared well wearing green jerseys this season.In a season defined by inconsistencies, the Celtics have routinely done at least one thing this year: win on the road.
Boston improved to 23-12 away from home with Friday's 94-87 triumph over the Rockets in Houston. The Celtics boast the second best road record in the NBA behind only Eastern Conference-leading Cleveland at 25-11.
Boston is one of only three teams in the East to have a winning record on the road. The other two teams -- Cleveland and Orlando -- have combined for a total of 11 home losses, while the Celtics are a mere 21-12 at home this year, already posting the same amount of losses as combined over the past two seasons when Boston was 35-6 at home in both campaigns.
Yet, something about the road brings out the best in Boston.
"The road is hostile," forward Kevin Garnett said after Friday's win. "You expect the worst, and that's what it is. Maybe we're too confident at home."
Click HERE to read the full story.
Postgame notes: C's are streak stoppers
A collection of postgame news, notes, and analysis from afar after the Boston Celtics defeated the Houston Rockets, 94-87, Friday night at the Toyota Center.
Streak stoppers: Boston's triumph over Houston Friday ended the hosts' four-game winning streak, but that's hardly the first streak to disappear with the Celtics in town. In 2008, the Rockets watched Boston end their seven-game home winning streak with a 103-99 triumph. A season before that, Houston's 22-game winning streak (and 15-game home victory run) got snapped by a Boston victory on March 18. Even going back to 2005, the Celtics produced a win to end the Rockets' six-game winning streak on March 18.
Speaking of streaks... Houston's Aaron Brooks struggled from the field, connecting on 4-of-12 shots for 10 points and missing his lone 3-point attempt of the evening. That lack of a trey snapped a franchise-best streak of 39 games (Dec. 22-March 17) in which Brooks made at least one 3-pointer per game. Brooks was the first NBA player to record a streak that long since Orlando's Rashard Lewis connected in 56 straight contests during the 2008-09 season. Boston's Rajon Rondo said the team wasn't focused on stopping Brook's streak: "Not really. I wanted him to take contested shots and I got help from my teammates. Fortunately for us, he only took one 3-pointer. I knew Brooks has been hot from the 3 and he'd been shooting them well. He is one of the fastest guys in the league. My mentality was definitely to play defense."
Praise from Brooks: In snapping his streak, Brooks heaped hefty praise on the Green, going so far as to suggest they played championship-caliber defense: "I think their guards are pretty good at denying the ball," said Brooks. "Nate [Robinson] and Rondo are pretty good at that. Besides that, their big guys are an excellent rotating team and when they won their championship, that's what they prided themselves on is their defense. They did a great job. They looked like the team of old. [Kevin] Garnett was hitting jump shots and going to the post. They're going to be tough to beat if they play like that."
Mark of a winner: The Celtics improved to 22-2 when holding an opponent below 90 points this season, while Houston dipped to 0-10 when scoring fewer than 90 points per game.
KG: Team effort: Not only did the Celtics register 25 assists on 37 field goals Friday, but KG kept spreading the praise around after the game: "I thought we controlled the game and Rondo really played well. It was a collective effort. We were playing aggressive basketball. The second unit was big. Defense won the game for us and it created energy. Definitely this was a team effort."
See you soon: The Celtics and Rockets met for the first time this season Friday, but meet again in Boston on April 2.